27 June in Indian and World History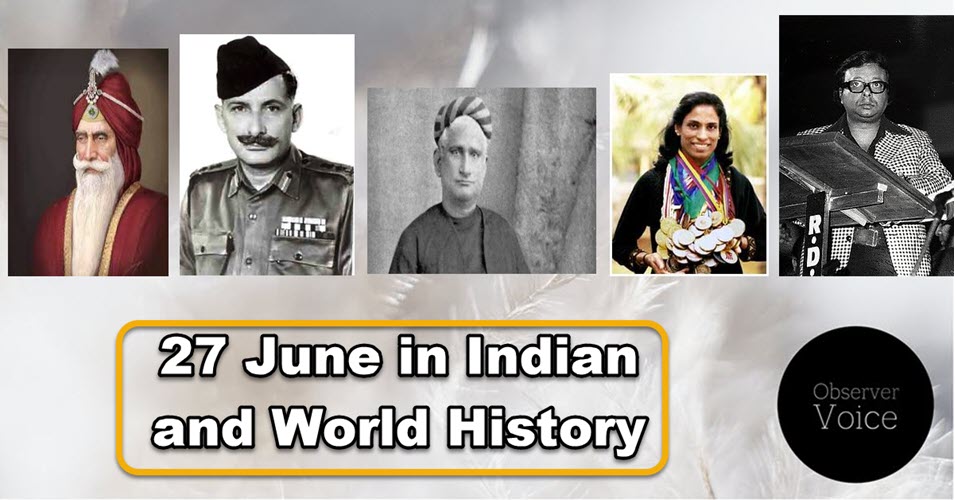 27 June in Indian and World History is celebrated, observed, and remembered for various reasons. 27 June is the birth anniversary of Bankim Chandra Chatterjee, Rahul Dev Burman, and P. T. Usha.
27 June is also observed as the death anniversary of Maharaja Ranjit Singh, and Sam Manekshaw.
Birth Anniversary
27 June in Indian history is celebrated as the birth anniversary of the following personalities:
Bankim Chandra Chatterjee (27 June 1838 – 8 April 1894), an Indian novelist, poet, journalist, and composer of Vande Mataram, originally in Sanskrit, personifying India as a mother goddess and inspiring activists during the Indian Independence Movement. Bankim Chandra Chatterjee was an expert in both poetry and fiction. In the year 1865, his first published work was the Bengali work 'Durgeshanandini'. Then his next works were Kapalkundala in 1866, Mrinalini in 1869, Vishvriksha in 1873, Chandrashekhar in 1877, Rajni in 1877, Raj Singh in 1881, and Devi Chaudhurani in 1884. Bankim Chandra Chatterjee also published the monthly magazine 'Vangdarshan' in 1872. He is known as Sahitya Samrat (Emperor of Literature) in Bengali. He was born on 27 June 1838 in Naihati, Bengal Presidency, British India (present-day West Bengal, India).
Rahul Dev Burman (27 June 1939 – 4 January 1994), an Indian music director and one of the greatest music composers of the Indian film industry. He was also called as Pancham or 'Panchamada'. He was the only child of famous musician Sachin Dev Burman and his wife Meera. Due to his unparalleled musical talent, he is considered one of the best musicians in the world. It is believed that many musicians imitate his style even today. Panchamada also lent voice to 18 films he composed. He also acted in Bhoot Bangla (1965) and Pyaar Ka Mausam (1969). He was born on 27 June 1939 in Comilla, Bengal Province, British India (present-day Cumilla, Bangladesh).
P.T. Usha is a sportsperson from the Indian state of Kerala. In 1976, the state government of Kerala opened a sports school for women, and Usha was elected as the representative of her district. Considered the queen of Indian track and field, PT Usha has been in Indian sports since 1979. He is one of the best players India has ever produced. No Indian female athlete could have achieved the success and fame that PT Usha has achieved in the nineties. She is currently considered the best female athlete in Asia. P. T. Usha is also known as the flying fairy. P.T. Usha was born on 27 June 1964 in Village, Kozhikode District, Kerala.
Read More: 26 June in Indian and World History
Death Anniversary
27 June in Indian history is observed as the death anniversary of the following personalities:
Maharaja Ranjit Singh (13 November 1780 – 27 June 1839), the most famous king of the Sikh Empire. He is popularly known as "Sher-e Punjab". Maharaja Ranjit Singh was such a person who not only kept Punjab united as a strong province, but also did not allow the British to come near his empire while he was alive. On April 12, 1801, Ranjit Singh assumed the title of Maharaja. His coronation was done by a descendant of Guru Nanak. He made Lahore his capital and moved to Amritsar in 1802. Maharaja Ranjit Singh was not educated, but he gave great encouragement to education and art in his state. He established law and order in Punjab and never gave death sentences to anyone. He died on 27 June 1839 in Lahore.
Sam Manekshaw (3 April 1914 – 27 June 2008), the Chief of the Indian Army under whose leadership India won the 1971 Indo-Pakistani War resulting in the birth of Bangladesh. In his 40 years of military life, he participated in all three wars with China and Pakistan apart from the Second World War. His friends affectionately called him 'Sam Bahadur'. He got awarded with Padma Vibhushan and Padma Bhushan for his bravery. Manekshaw died on 27 June 2008 at the age of 94 in Wellington, Tamil Nadu, India.
Read More: 25 June in Indian and World History
Notable events on 27 June in Indian and World history
27 June 1693 – The first women's magazine "Ladies' Mercury" was published in London.
27 June 1946 – The Canadian Parliament defined Canadian citizenship in the Canadian Citizenship Act of 1946.
27 June 1950 – The United Nations Security Council resolution was adopted.
27 June 1957 – The Medical Research Council of Britain released a report which suggested that smoking can cause lung cancer. This report was based on 25 years of research.
27 June 2002 – The G8 countries agreed to a Russian plan to destroy nuclear weapons.
27 June 2003 – The ban on homosexuality in the United States was revoked.
27 June 2004 – The US and the European Union signed an agreement on cooperation in the development GPS Galileo on this day.
27 June 2007 – James Garden Brown took over as British Prime Minister. British Prime Minister Tony Blair handed over his resignation letter to Queen Elizabeth.
27 June 2008 – India and Pakistan resolved roadblocks to commissioning a gas pipeline project coming from Iran.
27 June 2015 – the United Nations decided to display a picture of Satyajit Ray, who has a special place in the film history of India, at its headquarters.