2 August in Indian and World History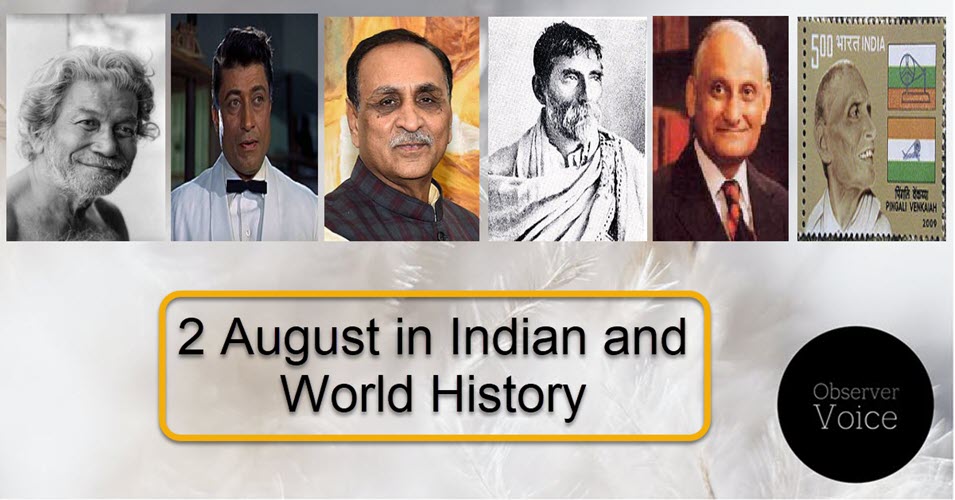 2 August in Indian and World History is celebrated, observed, and remembered for various reasons. 2 August is the birth anniversary of Acharya Prafulla Chandra Ray, Pingali Venkayya, Ganga Prasad Birla, and Vijay Rupani.
2 August is also observed as the death anniversary of Ramkinkar Baij, and Kamal Kapoor.
Birth Anniversary
2 August in Indian history is celebrated as the birth anniversary of the following personalities:
Acharya Prafulla Chandra Ray (2 August 1861 – 16 June 1944) was the father of chemistry in India. He was a simple and patriotic scientist, who made tremendous efforts for the country's self-reliance in chemical technology. Impressed by his multi-faceted personality of 'simple living, high thinking' Mahatma Gandhi said, "On seeing this simple man dressed in pure Indian garb, one cannot believe that he can be a great scientist." Prafulla Chandra Roy's talent was so remarkable that on the publication of his autobiography "Life and Experiences of Bengali Chemist" (Life and Experience of a Bengali Chemist), the international science magazine "Nature" paid tribute to him and wrote that " No one else could possibly have a more distinctive life character than Prafulla Chandra Rai. Before his death, Acharya Prafulla Chandra Rai had donated all his property for social work. He was Born on 2 August in India.
Pingali Venkayya (2 August 1878 – 4 July 1963) was the designer of the 'Tiranga' national flag of India. He was also a true patriot of India, a great freedom fighter, and an agricultural scientist. Pingali Venkayya had a good hold on languages ​​like Sanskrit, Urdu, and Hindi. Along with this, he had great knowledge of geology and agriculture. In 1904, when Japan defeated Russia, he was so impressed by this news that he immediately learned Japanese. While the Swadeshi movement of Mahatma Gandhi was going on, this movement also changed the mind of Pingali Venkaiah. At that time, he imported cottonseed called Cambodian from America and germinated this seed with cottonseed of India and prepared Indian hybrid cottonseed. For his research work, he later came to be known as 'Venkayya Kapas'. He was Born on 2 August 1878 in Andhra Pradesh.
Ganga Prasad Birla (2 August 1922 – 5 March 2010) was a famous entrepreneur of India. GPCK Birla Group's G.P. Birla was the son of the late Braj Mohan Birla. GPCK The Birla class has carried out various business activities in the four continents, both in the construction and service sectors. Manufacturing activities in this category include motorcar and component engineering products, manufacturing products, industrial chemicals, and paper. Ganga Prasad Birla 'GPCK' Birla was the head of the company group. GPCK Birla Group was founded by his late father Braj Mohan Birla. The company group is engaged in the business of manufacturing vehicles, bearings, heavy machinery, power transmission equipment, cement, fans, IT and consumer goods, etc. Presently, the annual turnover of the group is Rs 1,500 crore. Companies like Hindustan Motors, Orient Industries, and Birla Technical Services also belong to this group. He was Born on 2 August in India.
Vijay Rupani is an Indian politician and the Chief Minister of Gujarat. He is a member of the Gujarat Legislative Assembly from Rajkot West. He is also the state president of the party. He is a follower of Jainism. He initially joined Akhil Bharatiya Vidyarthi Parishad as a student activist. After this, he joined the Rashtriya Swayamsevak Sangh and Jan Sangh in the year 1971. Along with this, he also joined the Bharatiya Janata Party. Vijay Rupani was made the Chief Minister of Gujarat on Sunday 7 August 2016. With this, he resigned from his post as president. Rupani was Born on 2 August 1956 in Rangoon India.
Read More: 31 July in Indian and World History
Death Anniversary
2 August in Indian history is observed as the death anniversary of the following personalities:
Ramkinkar Baij (20 May 1910 – 2 August 1980) was an Indian sculptor. He was counted among the pioneers of modern Indian sculpture. With his determination, he became one of the distinguished early modern artists of Indian art. In the year 1970, the Government of India honoured him with the Padma Bhushan for his incomparable contribution to Indian art. The monumental artefacts of Ramkinkar set a different paradigm in public art. Ramkinkar Baij was counted among the pioneers of modern Indian sculpture. Baij died on 2 August 1980.
Kamal Kapoor (22 February 1920 – 2 August 2010) was an Indian actor and producer who acted in around 600 Hindi, Punjabi, and Gujarati films. He was a cousin of Prithviraj Kapoor and maternal grandfather of Goldie Behl. He started his career working as a hero through the 1940s-50s. His first film was Door Chalen, which was released in 1946. He played the lead in the movie Door Chalen. He started playing a villain in the 1960s-70s. Some of his popular roles are those of the father of Raj Kapoor in Aag and Narang. He died on 2 August 2010.
Read More: 30 July in Indian and World History
Notable events on 2 August in Indian and World History
2 August 1932 – The positron, a particle of the electron, was discovered by Carl de Andesen.
2 August 1935 – The British government separated Burma and Aden from India by passing the Government of India Act.
2 August 1939 – World-renowned scientist Albert Einstein wrote a letter to President to start a nuclear weapons research program.
2 August 1955 – The Soviet Union conducted a nuclear test on this day.
2 August 1970 – Mrs C. Belliappa Muthamma became the first woman ambassador of India to be made the ambassador of Hungary.
2 August 1987 – Viswanath Anand became the first Asian to win the World Junior Chess Championship.
2 August 2001 – Sugar imports from Pakistan to India were approved on this day.
2 August 2012 – In London Olympics India won 6 medals including 2 Silver and 4 Bronze.
2 August 2013 – In healthcare company Johnson & Johnson was fined 85,000 euros in China for violating anti-monopoly laws.
The first week of August is celebrated as Breastfeeding Week all over the world to bring awareness to the public about breastfeeding.
Friendship Day is celebrated in India on the first Sunday of August.
2 August is celebrated as Liberation Day of Dadra and Nagar Haveli