14 June in Indian and World History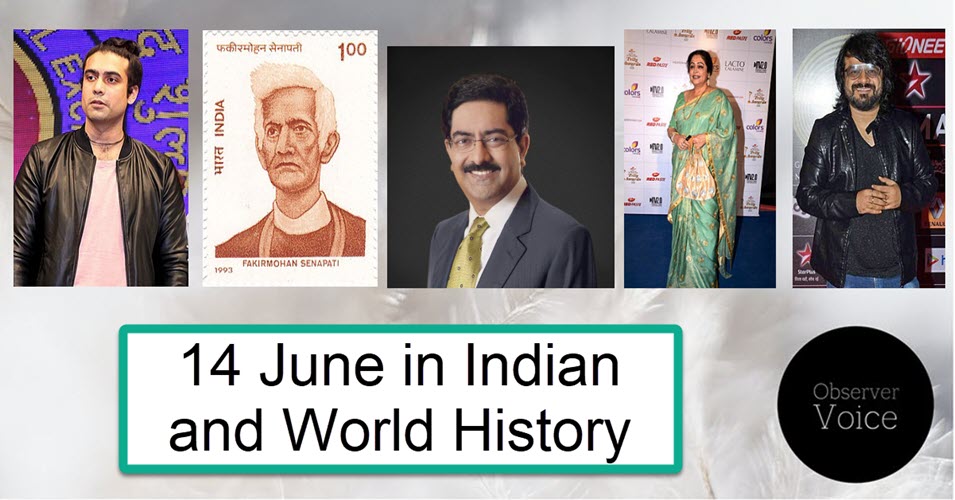 14 June in Indian and World History is celebrated, observed, and remembered for various reasons. 14 June is the birth anniversary of Keļallur Nilakantha Somayaji, Kirron Anupam Kher, Kumar Mangalam Birla, Pritam Chakraborty, and Jubin Nautiyal.
14 June is also observed as the death anniversary of Fakir Mohan Senapati, Sripati Chandrasekhar, and Manohar Malgonkar.
Birth Anniversary
14 June in Indian history is celebrated as the birth anniversary of the following personalities:
Keļallur Nilakantha Somayaji (14 June 1444 – 1544), a major mathematician and astronomer of the Kerala school of astronomy and mathematics. He received education from many gurus. Nilakantha constantly researched astronomy and penned down the results. In his book 'Tantra Sangrah', which is an astronomical commentary, he covers various aspects of Indian astronomy. It has eight chapters and a total of 432 Sanskrit verses. It describes the motions of the planets, the various positions of the Sun. Along with this, different features of the solar eclipse and lunar eclipse have been shown. Apart from the Sun and the Moon rising and setting, the illumination of different parts of the Moon by the Sun is also highlighted. Another work of Neelkanth, 'Golasar', contains 56 Sanskrit verses and shows how mathematical calculations are made for the calculation of astronomical data. Similarly, 'Siddhant Darpan' has 32 Sanskrit verses and it describes a planetary pattern. There are 31 verses in 'Chandrachhaya Mathematics', and it describes the methods of estimation for calculating the distance to the meridians of the Moon. He was born on 14 June 1444 in Tirur, Kerala.
Kirron Anupam Kher, an Indian theatre, film, and television actress, singer, entertainment producer, TV talk show host, and a member of the Bharatiya Janata Party. She was born on 14 June 1952 in Bangalore, Mysore State, India (present-day Karnataka).
Kumar Mangalam Birla, an Indian billionaire industrialist, and the chairman of the Aditya Birla Group. He is also the chancellor of the Birla Institute of Technology & Science and the chairman of the Indian Institute of Technology Delhi and the Indian Institute of Management Ahmedabad. He is a fourth-generation member of the Marwari Birla family from the state of Rajasthan. He was born on 14 June 1967 in Calcutta, West Bengal, India.
Pritam Chakraborty, an Indian composer, instrumentalist, electronic guitar player, and singer. He is one of the most famous composers in India known for his compositions by finely blending Indian classical music with western influences. Pritam was born on 14 June 1970 in Kolkata, West Bengal, India.
Jubin Nautiyal, an Indian singer, performer, music programmer, composer, music director, indie-pop, and playback singer. He was awarded the Upcoming Male Vocalist of the 8th Mirchi Music Awards, 2016 for the song "Zindagi Kuch Toh Bata" from Bajrangi Bhaijaan. He has also been honored by many more awards for his excellent singing and performance. Jubin has sung many hit songs in his career. Apart from this, he has also recorded songs in many Indian languages. His recent song "Lut Gaye" become a huge hit with 660 million views in 3 months. Jubin was born on 14 June 1989 in Dehradun, Uttarakhand, India.
Read More: 13 June in Indian and World History
Death Anniversary
14 June in Indian history is observed as the death anniversary of the following personalities:
Fakir Mohan Senapati (13 January 1843 – 14 June 1918), regarded as the father of Odia nationalism and modern Odia literature. an Indian writer, poet, philosopher, and social reformer. He played a leading role in establishing the distinct identity of Odia, a language mainly spoken in the Indian state of Odisha. In the stories and novels of this 'Katha-Emperor' of Oriya literature, the very insignificant, oppressed characters of the then society are seen. Among the stories written by him, 'Revati', 'Patent Medicine', 'Dakmunshi', 'Sabha Zamindar' are prominent. Premchand in Hindi literature and Fakir Mohan in Oriya literature are considered equivalent. In the stories of both the authors, the social, political, economic, and cultural conditions of India experienced in the society of that time have been properly shaped. He has also translated texts like Ramayana, Geeta, Upanishad, etc. into the Oriya language. He died on 14 June 1918 at the age of 75 in Balasore, Bengal Presidency, British India (present-day Odisha, India).
Sripati Chandrasekhar (22 November 1918 – 14 June 2001) is a well-known Indian demographer, economist, sociologist, and scholar who has extensively published on demographics, especially related to India. He died on 14 June 2001.
Manohar Malgonkar (12 July 1913 – 14 June 2010), an Indian author of both fiction and nonfiction in the English language. He was also an army officer, a big game hunter, a civil servant, a mine owner, and a farmer. He died on 14 June 2010.
Read More: 11 June in Indian and World History
Notable events on 14 June in Indian and World history
14 June 1634 – The Polianov Peace Treaty between Russia and Poland was signed on this day.
14 June 1658 – British and French armies defeated Spain at the Battle of Dunes.
14 June 1775 – The US Army was established on this day.
14 June 1901 – The first golf tournament was organized on this day.
14 June 1907 – Women got the right to vote in Norway on this day.
14 June 1917 – Germany's first air raid on England took place in which more than a hundred people died in East London.
14 June 1922 – US President Warren G. Harding gave his first radio speech.
14 June 1934 – Hitler and Benito Mussolini met in the Austrian capital Vienna.
14 June 1940 – During World War II, the German army captured Paris, the capital of France.
14 June 1940 – The Nazis opened a concentration camp in the conquered country of Poland.
14 June 1947 – The Congress Working Committee placed the proposal acceptance of the Mountbatten Plan for the 1947 Partition of India before the All-India Congress Committee.
14 June 1949 – The nation of Vietnam was formed on this day.
14 June 1958 – Dr. CV Raman was awarded the Lenin Peace Prize in the Kremlin.
14 June 1962 – The European Space Research Organization was established in Paris.
14 June 1980 – Argentine soldiers surrendered to British forces in the Falkland Islands.
14 June 1999 – Thabo Mbeki was elected President of South Africa on this day.
14 June 2001 – China, Russia, Kazakhstan, Kyrgyzstan, Tajikistan, and Uzbekistan created the Association for Shanghai Cooperation (SCO).
14 June 2004 – International Seminar on the 50th Anniversary of the Panchsheel Siddhanta was held in Beijing.
14 June 2007 – Fossils of giant bird-like dinosaurs were found in the Gowi Desert of China on this day.
14 June 2008 – The Central Government ruled out the possibility of the creation of a separate Gorkhaland state.
14 June 2012 – 11 people were killed and 16 injured in an explosion at the Indian steel plant in Visakhapatnam.
World Blood Donor Day
Every year, on 14 June, World Blood Donor Day is celebrated. The day offers a chance to call on governments and national health authorities to provide sufficient resources to increase the collection of blood from voluntary, unpaid donors and to manage access to blood and transfusion of those who need it.