13 January in Indian and World History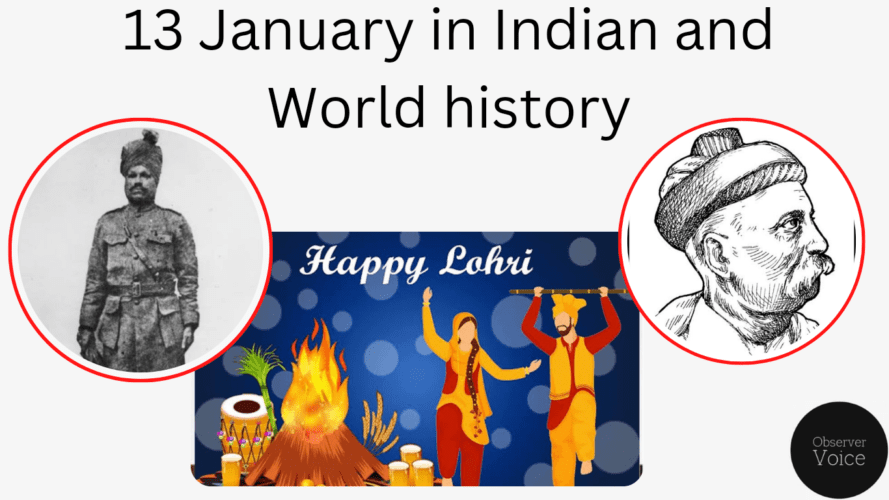 13 January in Indian and World History is celebrated, observed, and remembered for various reasons. 13 January is the birth anniversary of Badlu Singh, Marri Chenna Reddy, Vajubhai Rudabhai Vala, and Major Mohit Sharma.
13 January is also observed as the death anniversary of Raghunath Narasinha Mudholkar, Manmohan Mahapatra, and Saraswathi Rajamani.
Birth Anniversary
13 January in Indian history is celebrated as the birth anniversary of the following personalities:
Badlu Singh (13 January 1876 – 23 September 1918) was a Hindu Jat. He was a sergeant in the 29th Lancers Regiment of the Indian Army. During World War I, he was first sent to France, but later to Palestine. He was awarded the "Victoria Cross" posthumously. Badlu Singh was born on 13 January 1876 in Punjab.
Marri Chenna Reddy (13 January 1919 – 2 December 1996) was an Indian National Congress politician. He was the former Governor of Uttar Pradesh and the former Chief Minister of Andhra Pradesh. He was the General Secretary of the Provincial Congress Committee and PCC. Reddy was a member of the Working Committee for 30 years. He was born on 13 January 1919 in Andhra Pradesh.
Vajubhai Rudabhai Vala is a well-known Indian politician and former Governor of Karnataka. Before being appointed as the Governor, he was the Speaker of the Gujarat Legislative Assembly. Vajubhai Vala started his career as a member of Rashtriya Swayamsevak Sangh and became a member of Jana Sangh in 1971. He was also imprisoned for eleven months during the Emergency in 1975. He was born on 13 January 1939 in Gujarat.
Major Mohit Sharma (13 January 1978 – 21 March 2009) was an Indian Army officer who was posthumously awarded the Ashok Chakra. He was from 1 Para SF. He was martyred on March 21, 2009 in Kupwara, North Kashmir. Major Mohit Sharma was leading the Bravo Assault Team and was a commando of 1 Para Special Force. He killed Hizbul Mujahideen terrorists. His bravery instills in the heroes of the Indian Army today the spirit to do anything for the sake of the country.
Read More: 12 January in Indian and World History
Death Anniversary
13 January in Indian history is observed as the death anniversary of the following personalities:
Raghunath Narasinha Mudholkar (16 May 1857 – 13 January 1921) was an Indian politician. He presided over the 27th session of the Indian National Congress (1912) held at Patna. Before that, he presided over the 27th session of the Indian National Congress (Patna) at the Calcutta session of the Congress held in 1911. He held the post of Pandit Bishan Narayan Dhar.
Manmohan Mahapatra (10 November 1951 – 13 January 2020) was a famous Oriya film producer-director. His contribution in bringing Odia cinema to the international level is incomparable. At the 30th 'Rajya Movie Awards', Manmohan Mohapatra was awarded the Best Director Award for his film 'Bhija Maati Ra Swarg'. He died on 13 January 2020 in Bhubaneswar.
Saraswathi Rajamani (11 January 1927 – 13 January 2018) was India's youngest female spy. Coming from a wealthy family, she joined the Azad Hind Fauj in Singapore. At the age of 16, she was inspired by the powerful words of Netaji Subhash Chandra Bose and jumped into the freedom struggle. Saraswati Rajamani entered the camp of British soldiers along with her partner Durga. She had cut her hair for the mission. She stayed in the camp as a boy. She washed the clothes of the British soldiers and polished their shoes, and while doing this, she gathered much important information. Saraswathi Rajamani died on 13 January 2018.
Read More: 11 January in Indian and World History
Notable events on 13 January in Indian and World History
13 January 1607 – The 'Bank of Geneva collapses after Spain declares national bankruptcy.
13 January 1818– The Rana of Udaipur signed a treaty with the British for the protection of Mewar.
13 January 1849 – The famous Battle of Chillianwala begins during the Second Anglo-Sikh War.
13 January 1889– The youth of Assam started publishing their literary journal 'Jonaki'.
13 January 1906 – Zhou Youguang, a Chinese linguist and sinologist, was born.
13 January 1913 — Enedina Alves Marques, first Black woman to receive an engineering degree in Brazil, was born.
13 January 1943 –  Sophie Taeuber-Arp, a Swiss artist, painter, sculptor, died.
13 January 1948 – Father of the Nation Mahatma Gandhi started fasting to death to maintain Hindu-Muslim unity.
13 January 1993 – The US and its allies launch air strikes on Iraq to enforce a no-fly zone in southern Iraq.
13 January 1995 – Belarus becomes the 24th member of NATO.
13 January 2006 – Britain rejects a military attack on Iran over its nuclear program.
13 January 2010 – Germany's economy shrank by 5% during 2009 due to the international financial crisis. This is the biggest decline since World War II.
Lohri Festival: In the northern region of India, particularly in Punjab, Haryana, and Himachal Pradesh, Lohri is a popular festival. Every year, it marks the end of the winter solstice and is celebrated on the 13th of January.