12 January in Indian and World History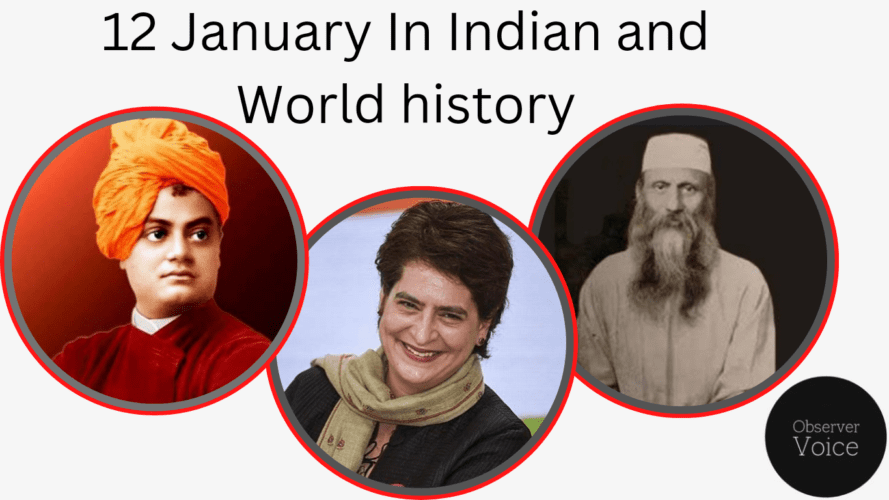 12 January in Indian and World History is celebrated, observed, and remembered for various reasons. 12 January is the birth anniversary of Swami Vivekananda, Bhagwan Das, Umashankar Dikshit, Ahmad Faraz, and Priyanka Gandhi Vadra.
12 January is also observed as the death anniversary of Gopinath Saha, Surya Sen, and Amrish Puri.
Birth Anniversary
12 January in Indian history is celebrated as the birth anniversary of the following personalities:
Swami Vivekananda (12 January 1863 – 4 July 1902), was an Indian Hindu monk. He was a chief disciple of the 19th-century Indian mystic Ramakrishna. Hindu spiritual leader and reformer in India who attempted to combine Indian spirituality with Western material progress, maintaining that the two supplemented and complemented one another. His Absolute was a person's own higher self; to labor for the benefit of humanity was the noblest endeavor. He was born on 12 January 1863 in Calcutta, British India.
Bhagwan Das (12 January 1869 – 18 September 1958) was a great scholar of various languages, freedom fighter, social worker, and educationist, in strengthening the language, and culture of the country. He is considered to be one of the main founders of an independent and educated India. He was born on 12 January 1869 in Varanasi.
Umashankar Dikshit (12 January 1901 – 30 May 1991) was the patriarch of the 'Indian Independence Movement' the priest of humanity and the forerunner of nationalism. He made the name of Unnao proud in India. Umashankar Dixit served the nation by holding important positions like Union Home Minister and Governor and sacrificed his own interests and always remained dedicated to it. He was born on 12 January 1901 in Unnao, Uttar Pradesh.
Ahmad Faraz (12 January 1931 – 25 August 2008) was among the best Urdu poets of Pakistan. He was the most popular after Faiz Ahmad Faiz. Ahmad Faraz's real name was 'Syed Ahmad Shah Ali'. The Indian public gave him unprecedented respect, sat on his eyelids, and was swayed by the magical effect of his ghazals. He was born on 12 January 1931 in Kohat, Pakistan.
Priyanka Gandhi Vadra is an Indian politician. She is from the Nehru-Gandhi family and is the granddaughter of Feroze Gandhi and Indira Gandhi. Priyanka Vadra is the second child of former Indian Prime Minister Rajiv Gandhi and the current president of the Indian National Congress, Sonia Gandhi. Her grandmother Indira Gandhi and great-grandfather Jawaharlal Nehru have also been Prime Ministers of India. She was born on 12 January 1972 in Delhi.
Read More: 11 January in Indian and World History
Death Anniversary
12 January in Indian history is observed as the death anniversary of the following personalities:
Gopinath Saha (1901 – 12 January 1924) was a famous revolutionary of West Bengal. He was a member of the 'Hindustan Republican Association'. He occupies an important place in the chain of immortal revolutionaries of India. His main field of work was Bengal. Gopinath Saha died on 12 January 1924.
Surya Sen (22 March 1894 – 12 January 1934) was counted among the famous revolutionaries and immortal martyrs who fought for India's independence. Many martyrs on the soil of India have illuminated the path of freedom by sacrificing their lives on the altar of revolution. One of them was Surya Sen working as a senior graduate teacher in 'National High School', due to which people fondly called him 'Master Da'. He died on 12 January 1934 in Bengal, Independent India.
Amrish Puri (22 June 1932 – 12 January 2005) an Indian actor, who was an important figure in Indian theatre and cinema. He is best known for playing iconic villainous roles in Hindi cinema as well as in other Indian and international film industries. Amrish Puri is Famous as Mogambo in Shekhar Kapur's Hindi film Mr. India (1987), and to Western audiences, he is best known as Mola Ram in Steven Spielberg's Hollywood film Indiana Jones and the Temple of Doom (1984). He was born on 22 June 1932 in Nawanshahr, Punjab, British India. Amrish Puri died on 12 January 2005 in Mumbai, Maharashtra.
Read More: 10 January in Indian and World History
Notable events on 12 January in Indian and World History
12 January 1708
– Shahu Ji was crowned Maratha ruler.
12 January 1757
– Britain captures the Bandel province of West Bengal from Portugal.
12 January 1866
– The Royal Aeronautical Society is formed in London.
12 January 1924
– Gopinath Saha mistakenly killed a man, mistaking him for Kolkata Police Commissioner Charles Augustus Taggart. After this he was arrested.
12 January 1934
– Surya Sen, the great revolutionary of India's freedom struggle, was hanged in Chittagong. He founded the Indian Republican Army and successfully led the Chittagong Rebellion.
12 January 2001
– India rejects Indonesia-Russia-China pact, deploys troops after tension on Bangladesh-Myanmar border over Naif river dam construction plan
12 January 2002
– Pakistan's President General Pervez Musharraf delivers a historic message to the nation, announcing Pakistan's ban on the terrorist organization Lashkar-e-Jaish while refusing to hand over wanted Pakistani criminals to India.
12 January 2010
– The Indian government added a death penalty clause to the Anti-Hijacking Act 1982 amid fears of terrorist attacks on civil aviation.
12 January 2018
– ISRO launches its 100th satellite, sending 31 satellites together.
12 January: National Youth Day
Every year, National Youth Day is celebrated in India to guide and motivate the youth to follow the right path, overcome challenges to achieve success, and contribute to the growth of the nation. Swamiji's ideals and teachings have influenced not only Indian society, but also western society, and our youth can take inspiration from him.