Nationwide DLC Campaign benefitted 30 Lakh pensioners – A nationwide campaign was launched by this Department during 1-30 November 2022, for 'Ease of Living' of pensioners/family pensioners in 37 cities with a view to spreading awareness amongst all the Central Government pensioners as well as the Pension Disbursing Authorities for use of Digital Life Certificate (DLC)/Face Authentication Technology to submit Life Certificate. Till 30th November 2022, a total of 30.85 lakh central government pensioners have used DLC successfully, of which 2.88 lakh DLC has been created through Face authentication.
Anubhav Awards for the year, 2020, 2021 & 2022 conferred- The Anubhav portal was created on the call of the Prime Minister in 2015 with a vision to preserve the rich experience of retired officials in digital form. An award scheme to incentivize and encourage more retiring employees to submit their write-ups was introduced in 2016. On the 18th of October, 2022, in a ceremony held in Vigyan Bhawan, wherein Dr. Jitendra Singh, MoS (PP) conferred Anubhav Awards for the years 2019, 20202 & 2021 on 15 awardees.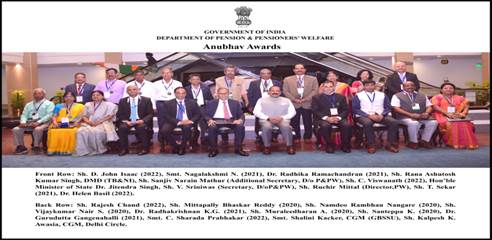 Dissemination of best practices through Anubhav Awardees Speak Webinar Series – This Department has launched a nationwide Webinar Series "Anubhav Awardees Speak" from the 22nd of November 2022. The webinar series aims to facilitate experience sharing with relevant stakeholders and concerned Ministries/Departments/Organizations. The webinar series will feature two Anubhav Awardees as speakers to share their experiences and to motivate/raise awareness among retiring employees to fill up their own experiences on the Anubhav Portal. Webinars are scheduled to take place on a monthly basis. Two Webinars have been held so far this year, having a total of 1182 participants.
Launch of Integrated Pensioners' Portal in collaboration with SBI & other banks benefitting 11 Lakh pensioners – INTEGRATED PENSIONERS' PORTAL has been launched in October 2022 with an objective to provide post-retirement services to the pensioners, through the Bhavishya platform, a truly single window portal for the pensioners. SBI pension seva portal has been integrated to provide Pensioner related services. All 17 Pension disbursing banks shall be integrated into this portal for Ease of Pensioners.
Bhavishya is ranked as 3rd best portal under the central govt. service portals by NeSDA- 2021 ranking
Bhavishya is a web-based online pension sanction and payment tracking system developed by the Department. The system helps both the retiring employees and the administrative authorities monitor and track delays. It has been ranked 3rd best among central government service portals by the NeSDA-2021. Bhavishya has overall 86% compliance in the seven major categories and 100% compliance in End Service Delivery and Status Request Tracking. As of 01.12.2022, Bhavishya is running in 97 Ministries/Departments/Apex Bodies and 817 attached offices through 7920 DDOs. Further, this application has so far issued more than 1,80,000 PPOs.
1st Rashtriya Kirti Puraskar – This Department was awarded the First Rajbhasha Kirti Puraskar for remarkable achievement in the category of Ministry/Department with less than 300 employees by Shri Amit Shah, Union Minister of Home Affairs during the 'Hindi Diwas' Celebration organized by the Department of Official Language, Ministry of Home, at Surat (Gujarat). The award was received by Shri Sanjiv Narain Mathur, Additional Secretary (DOPPW).
Bankers' Awareness Series for reducing the root cause of grievances filed on CPENGRAMS –  This Department has started a series of Awareness Programs for Central Pension Processing Centres and field functionaries handling pension-related work in the banks. Since the major Pension Disbursing Authorities are banks, the first program in the series was held for officers of the State Bank of India on the 20th and 21st of June 2022 at Udaipur, covering the Northern region of the country. A team of officers from this Department took sessions on Bank related common pensioners' grievances, Pension policy reforms & digitization regarding the disbursement of pensions to Central Government pensioners, with the objective of updating the field functionaries of the State Bank of India. Special sessions were organized on Income Tax matters related to pensioners as well as Digital means of submitting the Annual Life Certificates. Chief Controller (Pension), CPAO shared the reasons leading to Pensioners' grievances and suggested actions that may be taken by the bank for redressal.
Achievements under Special Campaign 2.0 – The Department has achieved the ambitious target set by it at the start of the campaign to bring down the pendency of Pension Grievances. The Department issued 60 circulars under Easing of Rules/Processes and resolved 4200 pending pensioner grievances. 6559 physical files were reviewed and out of these 3578 files were weeded out. Total of 3836 E-Files have been closed in which action was completed. 35 Cleanliness Campaigns were conducted by the Department and Pensioners' Associations across the country.
Pension Adalat – Pension Adalats were conducted across Ministries/Departments on a single day. May 5, 2022, throughout the country including all the Central Armed Police Forces as well as non-Civil Ministries viz., defence, railways, telecom, and posts to resolve chronic grievances of Central Government Pensioners, falling within the four walls of extant policy. 50 cities were digitally linked through VC. All the stakeholders of a particular grievance were invited on a single platform viz. the concerned Ministry/Department, the Pay & Accounts Officer of the concerned Department, the CPAO (Central Pension Accounts Officer, Ministry of Finance), the concerned Bank, and the Pensioner or his/her representative to resolve the case across the table. This was one of the largest pensioner grievance resolution exercises ever undertaken in the Country. To date, seven Pension Adalats have been conducted by DoP&PW, and out of a total of 22000 pension matters listed approximately 16000 grievances were resolved. In the 7th All India Pension Adalat which was held on the first week of 5th May 2022 at Dr. Ambedkar International Centre, Janpath, New Delhi under the auspices of Dr. Jitendra Singh, Union Minister of State (PP) by leveraging technology through Video Conferencing.
Release of Departmental publication of NPS Rules – On Good Governance Day, 2022 (25th December 2022), MoS(PP) released a book on the Central Civil Services (Implementation of National Pension System) Rules, 2021 published by the Department of Pension & Pensioners' Welfare. These Rules were earlier notified on 30.03.2021. These Rules inter alia cover the matters relating to the registration process and allotment of PRAN, contributions by the employee and the Government, compensation to be paid to the Government servant in case of delay in registration, and credit of contributions to the NPS Account, option for benefits under the CCS(Pension) Rules or NPS Rules in the event of death or disability of Government servant during service, entitlements on superannuation, premature/ voluntary retirement, resignation from service, etc. and the procedure for processing of claims under NPS.
Monthly Report of DoPPW to Secretaries for CPENGRAMS/ Delayed PPOs –  The Department has started a practice of circulation of Monthly Reports to all Secretaries of Ministries/Departments regarding the pendency of Pension Grievances on the CPENGRAMS portal and delay in the issue of PPOs as per Bhavishya portal. Inter-Ministerial Review Meetings are also being held regularly to address excess pendency/delay.