Raksha Mantri dedicated 28 BRO infrastructure projects worth Rs 724 crore to the nation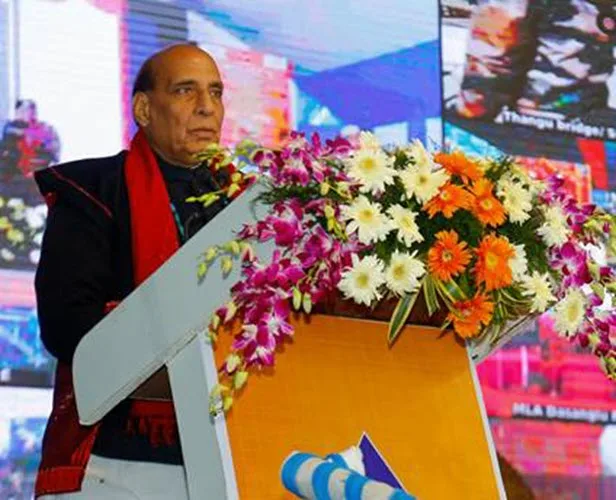 On January 03, 2023, Rajnath Singh dedicated 28 infrastructure projects of the Border Roads Organisation (BRO) to the nation, worth Rs 724 crore, at Siyom Bridge on Along-Yinkiong Road in Arunachal Pradesh. The projects include 22 bridges, including the Siyom bridge, three roads, and three other projects in seven border states and union territories. There are eight projects in Ladakh, five in Arunachal Pradesh, four in Jammu & Kashmir, three each in Sikkim, Punjab & Uttarakhand, and two in Rajasthan. Additionally, two telemedicine nodes were inaugurated in Ladakh and one in Mizoram.
During his speech, the Raksha Mantri said the projects were a testament to the concerted effort of the Government and the BRO to develop border areas for the Armed Forces' operational readiness and economic development for the far-flung regions. Government, led by Shri Narendra Modi, has a top priority of connecting border areas and ensuring their development.
According to Rajnath Singh, the goal is to build a strong, self-sufficient 'New India' to face future challenges that may arise in an ever-changing global scenario. Today, the world is witnessing a lot of conflicts. India has always been against war. That's our policy. Prime Minister Shri Narendra Modi recently reminded the world that this isn't the era of war. We don't believe in war, but if we have to fight, we will. To make sure that the Nation is protected from all threats, we're doing everything we can. I'm glad to see that the BRO is walking shoulder-to-shoulder with the Armed Forces," he said.
He also talked about how the BRO plays a crucial role in bolstering the country's security by developing infrastructure in border areas. "Our forces recently countered the opponent in the Northern sector with bravery & promptness. Due to the good infrastructure in the region, this was possible. This motivates us even more for far-flung areas," he said.
Infrastructure development is a game changer for folks living in borderlands, Shri Rajnath Singh says, praising BRO for ensuring socio-economic development. The government is paying special attention to the northeastern region, which has strengthened the country's security system. Shri Rajnath Singh said "BRO is the nation's bro (brother)" for the organization's relentless effort to support the military and local people. BRO is building road infrastructure in border areas and a strong and prosperous India is its destination, he said, quoting the famous phrase 'It's not about the destination, it's about the journey'.
Speaking at the inaugural ceremony of Siyom Bridge in Arunachal Pradesh and 27 other projects built across India. https://t.co/4o5gKNr1MY

— Rajnath Singh (@rajnathsingh) January 3, 2023
Siyom Bridge was formally inaugurated along Yinkiong Road, while other projects were dedicated virtually. In Arunachal Pradesh, the Siyom Bridge crosses the Siyom River using a state-of-the-art 100-meter-long steel arch bridge.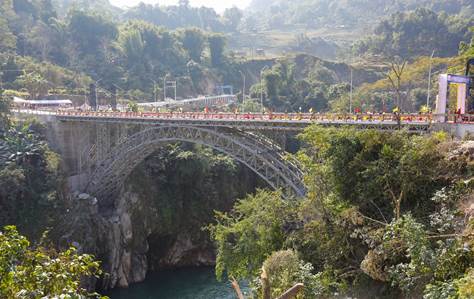 VSAT (Very Small Aperture Terminal) satellite communications will connect the three telemedicine nodes e-inaugurated by Raksha Mantri with Service hospitals. Through SATCOM & VSAT communication, doctors at Service hospitals can consult with Telemedicine specialists on medical & surgical emergencies. Using space technology, BRO provides medical services to its personnel in remote border locations. Raksha Mantri expressed hope that the nodes would help the locals with their health needs.
As of 2022, BRO has dedicated 103 infrastructure projects to the nation at a total cost of Rs 2,897 crore, including these 28 projects. In October last year, Raksha Mantri inaugurated 75 projects worth Rs 2,173 crore in Shyok village in Ladakh. BRO dedicated 102 such projects in 2021 at a cost of Rs 2,229 crore. In spite of challenging weather conditions at tough locations, Shri Rajnath Singh praised BRO's quick pace and dedication in the last few years.
A compendium on New Technologies was also released on the occasion. To negate the effects of remote and hostile terrain with adverse weather conditions, which unduly affect the quality of civil engineering works and meet completion timelines, the BRO uses the latest technology to build roads, bridges, airfields, and tunnel infrastructure.
The event was attended by Arunachal Pradesh Chief Minister Shri Pema Khandu, MP Arunachal East Shri Tapir Gao, and GOC-in-C Eastern Command Lieutenant General RP Kalita.
Raksha Mantri Shri @rajnathsingh to dedicate 28 infrastructure projects by @BROindia to the nation including the Siyom Bridge in #ArunachalPradesh

Have a look at it👇🏻 pic.twitter.com/AYrywHxMzR

— A. Bharat Bhushan Babu (@SpokespersonMoD) January 3, 2023