As the nation observes National Unity Day or Rashtriya Ekta Diwas on the birth anniversary of 'Sardar' Vallabhbhai Patel, the Iron Man of India, the Ministry of Power joined the nation in holding a Run for Unity on the occasion. The Run for Unity was flagged off by the Union Minister for Power and New & Renewable Energy Shri R. K. Singh, at the Jawaharlal Nehru Stadium in New Delhi today, the 148th birth anniversary of the leader.
Addressing the media afterand officials of the Ministry of Power and organizations under it, the Minister exhorted every Indian citizen to celebrate the National Unity Day, in honour of 'Sardar' Vallabhbhai Patel, who he recalled played a leadership role in the accession and integration of the princely states into the Union of India after Independence. Earlier, the Minister administered the Integrity Pledge to officials of the Ministry of Power and organizations under it.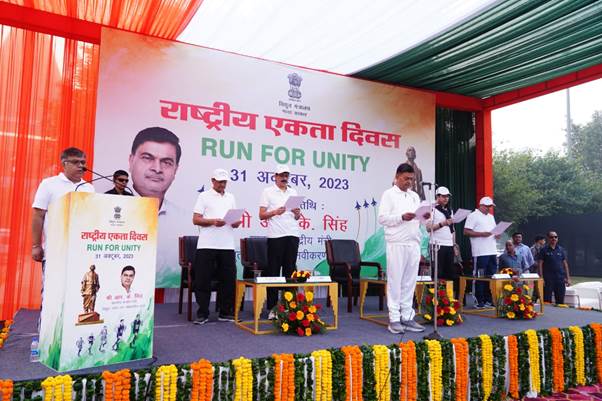 Also read: Sardar Vallabhbhai Patel: The Man Who United the Nation (by Research Unit, PIB)
Sardar Vallabhbhai Patel (31 October 1875- 15 December 1950) was an Indian Statesman. He served as the first Deputy Prime Minister of India from 1947 to 1950. And, was known as the Iron man of India and known for the reunification of India. He was born on 31 October 1875, in Bombay, India. He attends his primary education at Karamasda. At the age of 22, he completed his Matriculation. And then, he qualifies for the Law Examination.
In 1900, he set up an independent office of District advocate in Godhra. After two years, he moved to Borsad.  As a Lawyer, he distinguished himself in presenting as Unassailable in a precise manner and in challenging witnesses and British Judges. In 1908, his wife died. In 1910, he moved to London to study at the Middle Temple. In London, he studied diligently and passed the final Examination with high honors.