The National Gallery of Modern Art, Ministry of Culture, Government of India in association with Liszt Institute, Hungarian Cultural Centre, New Delhi is celebrating the 110th birth anniversary of Amrita Sher-Gil today.
Smt. Temsunaro Jamir Tripathi, Director, National Gallery of Modern Art, Dr Mariann Erdo, Director and Cultural Counsellor, Liszt Institute, Hungarian Cultural Centre Delhi,  Yashodara Dalmia(art historian and expert on Amrita Shergil), Mira Nair(film director), Tara Gandhi (granddaughter of Mahatma Gandhi), Aditya Arya (director of Museo Camera Gurgaon) Curators, staff of NGMA and art lovers were present at the event.
On this occasion, the Liszt Institute –  Hungarian Cultural Centre Delhi has launched the Amrita 110 Project. The institute has presented the calendar of events that are scheduled this year connecting schools, art institutions, online events, film festivals, and the release of Hungarian/Indian postal stamps. A carnival will also be organised in collaboration with NGMA and designer Ritu Beri for the brand The Luxury League.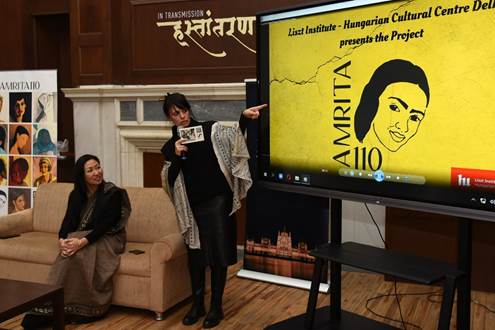 Amrita was an Indian-Hungarian painter and one of the avant-garde women artists. Her mother Marie Antoinette is a Hungarian and her father Umrao Singh Sher-Gil is a Sikh from India.  Though her art education was from Paris, she discovered the artistic traditions of India. Amrita travelled widely in India during 1939 which brought a robust impact on the style of expression, figuration and composition in her artwork.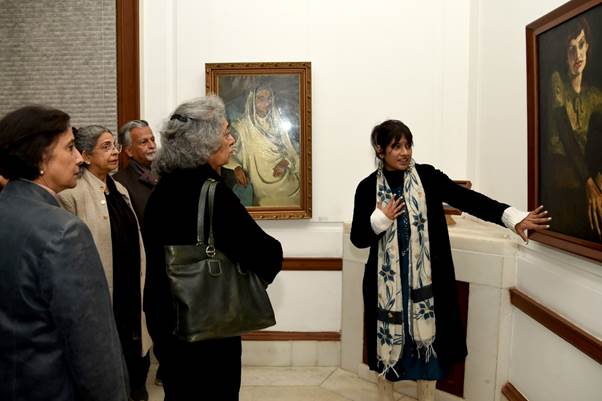 Her famous works are a group of three girls, Brahmacharis, Bride's toilet, Lady Daljit Singh of Kapurthala, Musicians, woman on Charpoy, Camels and Village girls. The event included a curatorial walk through the gallery dedicated to Amrita Sher-Gil's paintings in the Jaipur house.
**News Source: PIB India**
Tags:
Ministry of Culture
,
NGMA