5 February in Indian and World History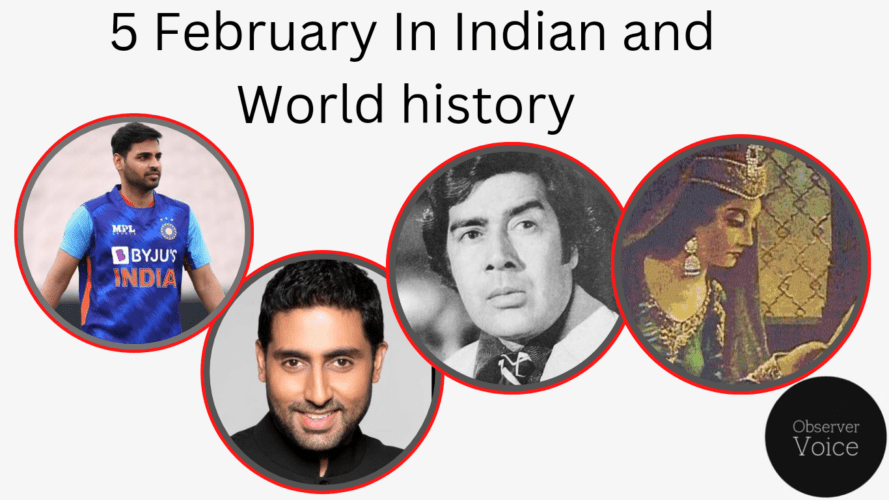 5 February in Indian and World History is celebrated, observed, and remembered for various reasons. 5 February is the birth anniversary of Zebunnisa, Janaki Vallabh Shastri, Abhishek Bachchan, and Bhuvneshwar Kumar Singh.
5 February is also observed as the death anniversary of Sujit Kumar.
Birth Anniversary
5 February in Indian history is celebrated as the birth anniversary of the following personalities:
Zebunnisa (5 February 1639 – 1702), the eldest daughter of the Mughal emperor Aurangzeb. She was very talented and full of qualities. Due to secret correspondence with the rebellious Shahzada Akbar, in the year 1691, Zebunnisa was imprisoned in the fort of Salimgarh and died in 1702. She was born on 5 February 1639 in Daulatabad.
Janaki Vallabh Shastri (5 February 1916 – 7 April 2011), a famous poet. He was awarded the 'Bharat Bharti Award' by the Government of Uttar Pradesh. He was one of the few poets who got a lot of respect from the readers of Hindi poetry. The poetic world of Acharya Janaki Vallabh Shastri is very diverse and extensive. Initially, he wrote poems in Sanskrit. Then came to Hindi with the inspiration of Mahakavi Nirala. He was born on 5 February 1916 in Gaya, Bihar.
Abhishek Bachchan, a famous Indian actor and film producer of Hindi films. Abhishek Bachchan started his film career under the shadow of his superstar father Amitabh Bachchan. Being the son of Amitabh Bachchan, where he started getting good films, on the other hand he started being compared to Amitabh. In his initial time, he did not get much success and some of his films were unsuccessful, but gradually he made a different image in the film world. He was born on 5 February 1976 in Mumbai.
Bhuvneshwar Kumar Singh, an Indian international cricketer who plays for Uttar Pradesh in domestic first-class cricket and for Sunrisers Hyderabad in the Indian Premier League. Kumar is a right-arm fast-medium bowler who swings the ball both ways efficiently. He was born on 5 February 1990 in Meerut, Uttar Pradesh, India.
Read More: 4 February in Indian and World History
Death Anniversary
5 February in Indian history is observed as the death anniversary of the following personalities:
Sujit Kumar (7 February 1934 – 5 February 2010), a famous actor in Bhojpuri and Hindi films. He played the character of a villain in most of Hindi films. Actor Sujit Kumar is considered the first superstar of Bhojpuri films. When Bhojpuri films were about to sink in the 60-70s, at that time Sujeet worked as a sanjeevani in Bhojpuri films, and just since then his magic was such that he became the first superstar of Bollywood. He was born on 5 February 2010 in Mumbai.
Read More: 3 February in Indian and World History
Notable events on 5 February in Indian and World history
5 February 1679 – The German ruler Leopold I signed a peace agreement with France.
5 February 1783 – In Calabria, Italy, a severe earthquake killed more than 25,000 people.
5 February 1870 – The movie was first shown in Philadelphia.
5 February 1900 – The Panama Canal Agreement was signed between Britain and America.
5 February 1917 – Mexico adopted a new constitution.
5 February 1922 – a raging mob set fire to a police station in Chauri Chaura town near Gorakhpur, Uttar Pradesh, in which 22 policemen were killed.
5 February 1961 – The first edition of the British newspaper "Sunday Telegraph" was published.
5 February 1970 – The US conducted a nuclear test in Nevada.
5 February 1971 – The astronauts of the Apollo 14 mission landed on the Moon.
5 February 1992 – Indian cricketer Dilip Vengsarkar retired from cricket, playing his last Test.
5 February 1999 – The President of South Africa, Nelson Mandela, made his last address to the nation in Parliament and resigned from his position in May of the same year.
5 February 2005 – Nuclear scientist Abdul Qadir Khan was pardoned by the President of Pakistan, Pervez Musharraf, for the misuse of nuclear technology.
5 February 2007 – India's Sunita Williams became the woman who spent the most time in space.
5 February 2008 – Pakistan's nuclear scientist Abdul Qadir Khan, who was in controversy, was allowed by the government to meet his close friends.
5 February 2010 – Indian shooter Abhinav Bindra won the gold medal at the Netherlands International Shooting Championships by scoring 596 out of 600.
5 February 2016 – the Ministry of Finance launched the YouTube channel.