4 March in Indian History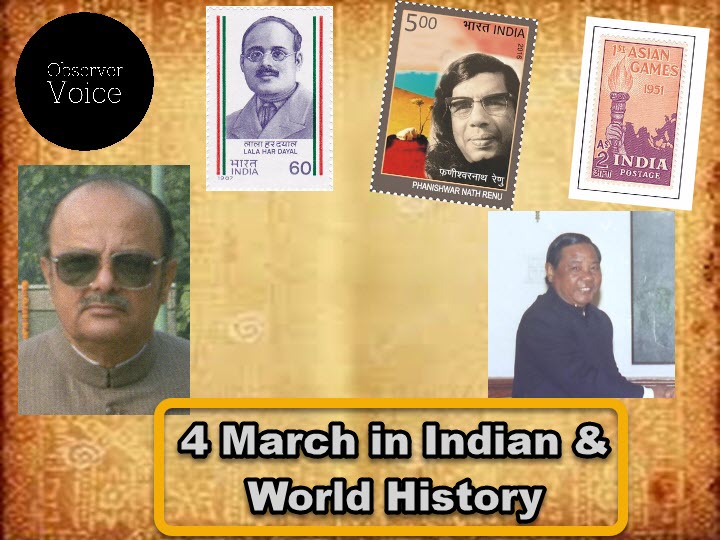 4 March in Indian history is celebrated, observed, and remembered for various reasons. 4 March is the birth anniversary of Phanishwar Nath Renu, Dina Pathak, Chandra Sekhar Yeleti, and Rohan Bopanna. 4 March is also observed as the death anniversary of Jyotirindranath Tagore, Lala Har Dayal Singh Mathur, Arjun Singh, and Purno Agitok Sangma.
Birth Anniversary
4 March in Indian history is celebrated as the birth anniversary of the following personalities:
Phanishwar Nath Renu (4 March 1921 – 11 April 1977), one of the most successful and influential writers of modern Hindi literature. His notable work was Maila Anchal. The 2017 Bollywood Film Panchlait is also based on this short story. In his stories, he depicted the life of rural Bihar and its people, especially the backward and the deprived. He was awarded Padma Shree, the fourth-highest civilian award. In 1977, the author returned the Padma Shri he had received in 1970, as a protest against the Emergency. Renu was born on 4 March 1921 in Bihar, British India.
Dina Pathak (4 March 1922 – 11 October 2002), an Indian actress and director. She was also an activist and President of the National Federation of Indian Women (NFIW). Dina Pathak acted in over 120 films in a career spanning over six decades. Her production Mena Gurjari in Bhavai folk theatre style ran successfully for many years and is now a part of its repertoire. In 1980, she was also awarded the Sangeet Natak Akademi Award. She was born on 4 March 1922 in Amreli, British India.
Chandra Sekhar Yeleti, an Indian film director. He works primarily in Telugu movies. He made his directorial debut with the Neo-noir crime film, Aithe, which received the National Film Award for Best Feature Film in Telugu, and the Nandi Award for Best Story for that year. He was born in Tuni on 4 March 1973.
Rohan Bopanna, an Indian professional tennis player. His singles career-high ranking was world No. 213 in 2007 and his career-high ranking in doubles was world No. 3 on 22 July 2013. Recently, most of his appearances in professional tournaments have been in doubles matches. He has been a member of the Indian Davis Cup team since 2002. He won the 2017 French Open mixed-doubles title with Gabriela Dabrowski becoming the fourth Indian player to win a Grand Slam title. He was born on 4 March 1980.
---
Read More: 3 March in Indian History
---
Death Anniversary
4 March in Indian history is remembered as death anniversary of following personalities:
Jyotirindranath Tagore (4 May 1849 – 4 March 1925), a musician, editor, and painter. He played a major role in the flowering of the talents of his younger brother, Rabindranath Tagore. He died on 4 March 1925 in Ranchi, British India
Lala Har Dayal Singh Mathur (14 October 1884 – 4 March 1939), an Indian nationalist revolutionary and freedom fighter. He was a polymath who turned down a career in the Indian Civil Service. His simple living and intellectual acumen inspired many expatriate Indians living in Canada and the U.S. to fight against British Imperialism during the First World War. He died in Philadelphia on 4 March 1939. It is suspected that he was poisoned.
Arjun Singh (5 November 1930 – 4 March 2011), an Indian politician. He served two terms as the 12th Chief Minister of Madhya Pradesh in the 1980s. Mr Singh later became Union Minister of Human Resource Development in the Manmohan Singh cabinet from 2004 to 2009. He was affiliated with Indian National Congress (INC). He died on 4 March 2011 in New Delhi, at an age of 80.
Purno Agitok Sangma (1 September 1947 – 4 March 2016), an Indian politician. He served as the Speaker of the Lok Sabha from 1996 to 1998 and Chief Minister of Meghalaya from 1988 to 1990. Mr Sangma was the candidate for the 2012 Indian presidential election, supported by BJP, however, he lost to Congress politician Shri Pranab Mukherjee. Initially, he was affiliated with Indian National Congress (INC) and expelled from the Congress on 20 May 1999, along with Sharad Pawar and Tariq Anwar, for raising the banner of revolt against Sonia Gandhi over the fact that she was a foreign-born citizen. After his departure from the Congress Party, he was one of the founders of the Nationalist Congress Party (NCP) along with Sharad Pawar and Tariq Anwar in 1999. He died on 4 March 2016 in New Delhi, at an age of 68.
---
Read More: 2 March in Indian History
---
Notable events on 4 March in Indian and World history
4 March 1951 – The 1951 Asian Games, which were the first games organized from 4th to 11th March 1951. A total of 489 athletes representing 11 Asian National Olympic Committees (NOCs) participated in 57 events from eight sports and discipline.
4 March 1961 – First Indian aircraft carrier INS Vikrant was commissioned. The ship was laid down as HMS Hercules for the British Royal Navy during World War II, but construction was put on hold when the war ended. India purchased the incomplete carrier in 1957, and construction was completed in 1961. Vikrant was commissioned as the first aircraft carrier of the Indian Navy and played a key role in enforcing the naval blockade of East Pakistan during the Indo-Pakistani War of 1971.
4 March 1941 – The United Kingdom launches Operation Claymore on the Lofoten Islands; the first large scale British Commando raid.
4 March 1943 – The Battle of the Bismarck Sea in the south-west Pacific comes to an end.
4 March 1944 – After the success of Big Week, the USAAF begins a daylight bombing campaign of Berlin.