31 March in Indian and World History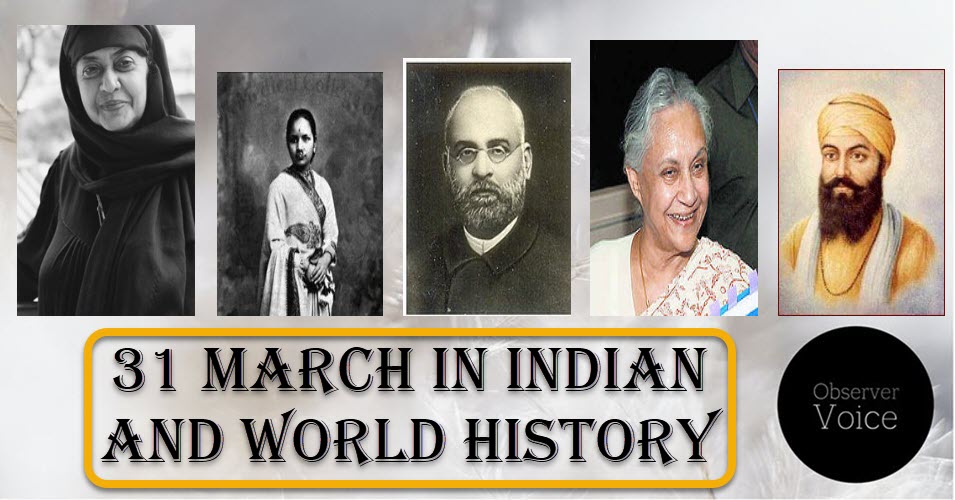 31 March in Indian and World History is celebrated, observed, and remembered for various reasons. 31 March is the birth anniversary of Guru Angad Dev, Anandi Gopal Joshi, Rama Shankar Vyas, Kamala Das, and Sheila Dikshit.
31 March is also observed as the death anniversary of Shyamji Krishna Varma, and Sardar Puran Singh.
Birth Anniversary
31 March in Indian history is celebrated as the birth anniversary of the following personalities:
Guru Angad Dev (31 March 1504 – 28 March 1552), the second Guru of the Sikhs. He was the second Guru of the Sikhs after Guru Nanak. He held this post from 7 September 1539 to 28 March 1552. Guru Angad Dev Maharaj ji had a creative personality. He had such spiritual activity that he would first become a true Sikh and then a great Guru. Guru Angad Dev is also known as 'Lahina ji'. It is the birthplace of the Punjabi script Gurmukhi, in which many parts of the Adi Granth, the holy book of the Sikhs, were written. He was born on 31 March 1504.
Rama Shankar Vyas (31 March 1860 – 1916) was counted among the outstanding writers of Hindi. He was the son of Pandit Gauri Prasad. Shankar Vyas was born on 31 March 1860 in Kashi.
Anandi Gopal Joshi (31 March 1865 – 26 February 1887), the first Indian woman to receive a doctorate degree. In an era when the education of women was difficult, then going abroad to get a doctorate degree was an example for very other womens. Anandi Gopal Joshi's personality was an inspiration for women. She made his dream come true in 1886. When She decided to become a doctor, there was a lot of criticism in his society that a married Hindu woman should go abroad (Pennsylvania) to study medicine. But Anandi was a determined woman and did not care at all for criticism. This was the reason that she got the distinction of being the first Indian woman doctor. She was born on 31 March 1865.
Kamala Das, a famous writer in English and Malayalam. Kamala Das was born on 31 March 1934 in an upscale Brahmin Nair family in Thrissur district, Kerala. She used to write poems since childhood. Kamala Das's mother Balamani Amma was a very good poetess, and her writings had a great impact on Kamala Das. This is the reason why he started writing poems.
Sheila Dikshit (31 March 1938 – 20 July 2019), a former Governor of Kerala and former Chief Minister of Delhi. He was elected to the Delhi Legislative Assembly for the third time in a row on 17 December 2008. Sheila Dikshit's tenure as Chief Minister was 15 consecutive years from 4 December 1998 to 27 December 2013, which is a record. His constituency was New Delhi. She was the second woman Chief Minister of Delhi. Prior to this, Sushma Swaraj had also been the Chief Minister of Delhi.
Read More: 30 March in Indian and World History
Death Anniversary
31 March in Indian history is observed as the death anniversary of the following personalities:
Shyamji Krishna Varma (4 October 1857 – 31 March 1930), one of those immortal sons of India, who devoted his whole life for the freedom of India. He went from India to England, devoted his whole life in creating an environment for the independence of India and motivating the youth. He became an eminent scholar of Sanskrit and Vedas, who became articulate in the company of Swami Dayanand Saraswati, held the position of Diwan of the then Ratlam state in 1885 till 1889.
Sardar Puran Singh (17 February 1881 – 31 March 1931) one of the distinguished essayists of India. He was also a patriot, educationist, teacher, scientist and writer. Along with this, he was also a well-known poet of Punjabi. Purna Singh is counted among the founders of modern Punjabi poetry. He died on 31 March 1931 in Dehradun.
Read More: 29 March in Indian and World History
Notable events on 31 March in Indian and World History
31 March 1727 – Sir Isaac Newton, an English physicist, mathematician, astronomer, and natural philosopher, was born.
31 March 1774 – The first office of the Postal Service opened in India.
31 March 1867 – Prarthana Samaj was established in Mumbai.
31 March 1870 – For the first time in America, a black citizen voted.
31 March 1889 – The Eiffel Tower in France was officially opened.
31 March 1917 – The United States bought the Danish West Indies and renamed it the Virgin Islands.
31 March 1921 – The Royal Australian Air Force was established.
31 March 1959 – The Buddhist religious leader, the Dalai Lama, was granted asylum in India after his exile from Tibet.
31 March 1964 – The last time an electric tram ran in Bombay was.
31 March 1966 – Soviet Russia launched the first Chandrayaan Luna 10.
31 March 1979 – Malta declared independence from Britain.
31 March 1983 – 500 people died in a devastating earthquake in the Colombian city of Popayan.
31 March 1997 – Vaslav Clark was appointed the new NATO military commander.
31 March 2005 – the United Nations halted grain supplies to North Korea.
31 March 2007 – Michael Phelps took six golds at the World Swimming Championships.
31 March 2008 – 12 people were killed in a bomb blast near a Pakistani Air Force bus.
31 March 2011 – According to census data, the population of India has increased to 121 crore (1 billion 21 crore) in 2011. This is an increase of 17.64 per cent as compared to the census done ten years ago.