30 April in Indian and World History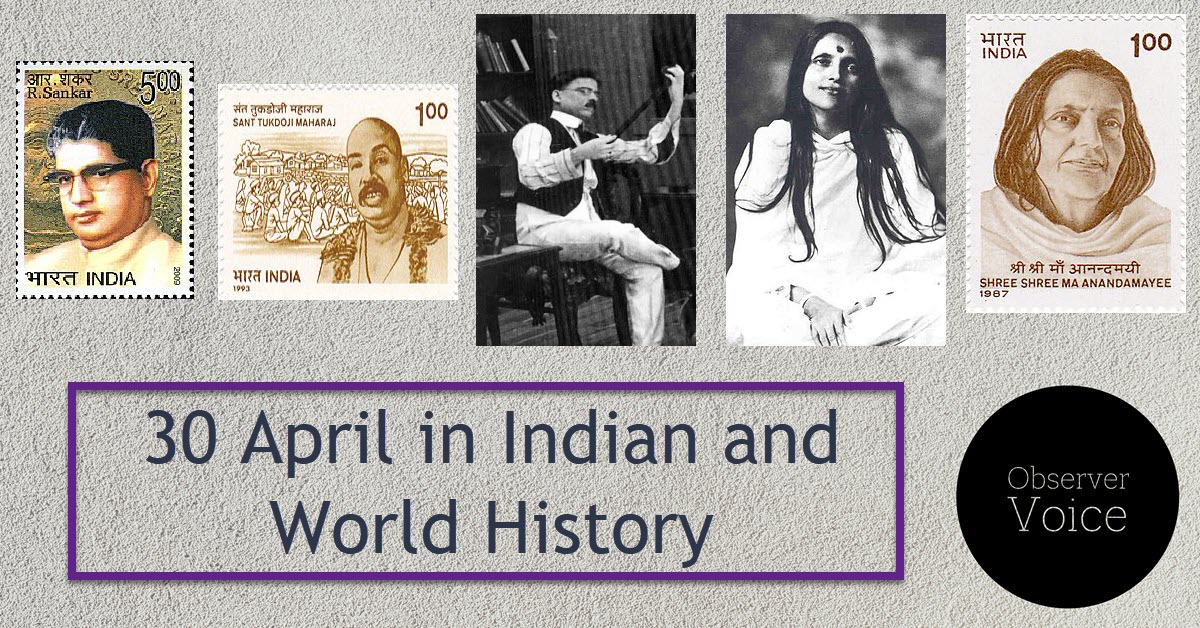 30 April in Indian and World History is celebrated, observed, and remembered for various reasons. 30 April is the birth anniversary of Dadasaheb Phalke, Anandamayi Ma, R. Shankar, Tukdoji Maharaj, Naresh Chander Chaturvedi, and Rohit Sharma.
30 April is also observed as the death anniversary of Hari Singh Nalwa, Achala Sachdev, and Khaled Choudhury.
Birth Anniversary
30 April in Indian history is celebrated as the birth anniversary of the following personalities:
Dadasaheb Phalke (30 April 1870 – 16 February 1944), an Indian producer-director-screenwriter, known as the Father of Indian cinema. The Dadasaheb Phalke Award, awarded for lifetime contribution to cinema by the Government of India, is named in his honor. He was born on 30 April 1870 at Trimbak, Bombay Presidency now Maharashtra.
Anandamayi Ma (30 April 1896 – 27 August 1982), an Indian saint, described by Sivananda Saraswati (of the Divine Life Society) as "the most perfect flower the Indian soil has produced. She taught how to live a God-centered life in the world and provided the living inspiration to enable thousands to aspire to this noblest ideal. She also advocated spiritual equality for women; for example, she opened up to women the sacred thread ritual, which had been performed by men only for centuries. She was born on 30 April 1896 in the village of Kheora, Tipperah District, Bangladesh.
R. Shankar (30 April 1909 – 7 November 1972), the third Chief Minister of Kerala from 1962 to 1964. He was also the Deputy Chief Minister of the State from 1960 to 1962. Sankar apart as a politician is known as a statesman, administrator, orator, educationist, writer, and editor. He was born on 30 April 1909 in Kuzhikkalidavaka village in Puthoor, Kollam district, British India.
Tukdoji Maharaj (30 April 1909 – 11 October 1968), a spiritual saint from Maharashtra. He was a disciple of Aadkoji Maharaj. Tukdoji Maharaj was involved in social reforms in the rural regions of Maharashtra. He was born on 30 April 1909 in Maharashtra, India.
Naresh Chander Chaturvedi, a writer, and poet, predominantly writing in the Hindi language. He was a member of the Indian National Congress and was elected to the 8th Lok Sabha from the Kanpur constituency. Chaturvedi was the general secretary of the All India Congress Committee In 1999, he was a member of the National Commission for SC and ST. He was born on 30 April 1928 in Farrukhabad, Uttar Pradesh.
Rohit Sharma, an Indian international Right-handed batsman who plays for Mumbai in domestic cricket and captains Mumbai Indians in the Indian Premier League, and an occasional right-arm off-break bowler. He is the vice-captain of the Indian national team in limited-overs formats. Sharma has also got Arjuna award in 2015 and Rajiv Gandhi Khel Ratna in 2020. He was also selected as Player of the Year 2019 by ICC in ODI Cricket. He was born on 30 April 1987 in Bansod, Nagpur, Maharashtra.
Read More: 29 April in Indian and World History
Death Anniversary
30 April in Indian history is observed as the death anniversary of the following personalities:
Hari Singh Nalwa, a great Sikh warrior. He was the Chief of Army Staff of Maharaja Ranjit Singh fort. He was died on 30 April 1837 in fighting with the Pathan forces of Dost Mohammed Khan of Afghanistan.
Achala Sachdev (3 May 1920 – 30 April 2012), an Indian film actress who appeared in classic films of the Hindi language film industry. She started his career as a child actor and further her role as a mother and grandmother too. She died on 30 April 2012 at the age of 91.
Khaled Choudhury (20 December 1919 – 30 April 2014), a theatre personality and artist of Bengal. Initially, he worked for creating the Stage, sets, and costumes and later as Music Director. He has been awarded the Padma Bhushan for his contribution to theatres of India in 2012. He died on 30 April 2014 at the age of 94.
Read More: 27 April in Indian and World History
Notable events on 30 April in Indian and World History
30 April 1789 – The first U.S. President George Washington is inaugurated.
30 April 1798 – One of the three military departments within the Department of Defense of the U.S.A. The Department of the Navy was established by an Act of Congress.
30 April 1859 – The historical novel 'A Tale of Two Cities by Charles Dickens, set in London and Paris before and during the French Revolution, is published.
30 April 1897 – Sir J.J Thomson announced the discovery of electrons in a lecture to the Royal Institution.
30 April 1926 –  Bessie Coleman, was the first African-American woman, and the first of Native American descent, to hold a pilot license, died.
30 April 1945 – Adolf Hitler committed suicide along with his new wife Eva Braun in the Fuhrerbunker in Berlin as the Red Army captures the city.
30 April 1955 – The Imperial Bank of India (IBI) one of the oldest and the largest commercial banks of the Indian subcontinent, was subsequently transformed into the State Bank of India in 1955.
30 April 1982 – The Bijon Setu massacre occurs in Calcutta, India. In this 16 sadhus and a sadhvi belonging to Ananda Marga was killed and burned.
30 April 2012 – a ferry carrying about 350 passengers capsized in the Brahmaputra River in the Dhubri district of Assam in Northeast India due to a Storm. The disaster killed at least 103 people.
30 April – Ayushman Bharat Diwas
India celebrates Ayushman Bharat Diwas on April 30 every year. As part of the Ayushman Bharat Diwas, two missions are achieved. In addition to providing insurance benefits to the poor, they are to promote health and wellness. The day aims to promote affordable medical facilities in remote areas of the country using the Socio-Economic Caste Census database. The day also aims to promote the health and wellness of the poor.