3 November in Indian and World History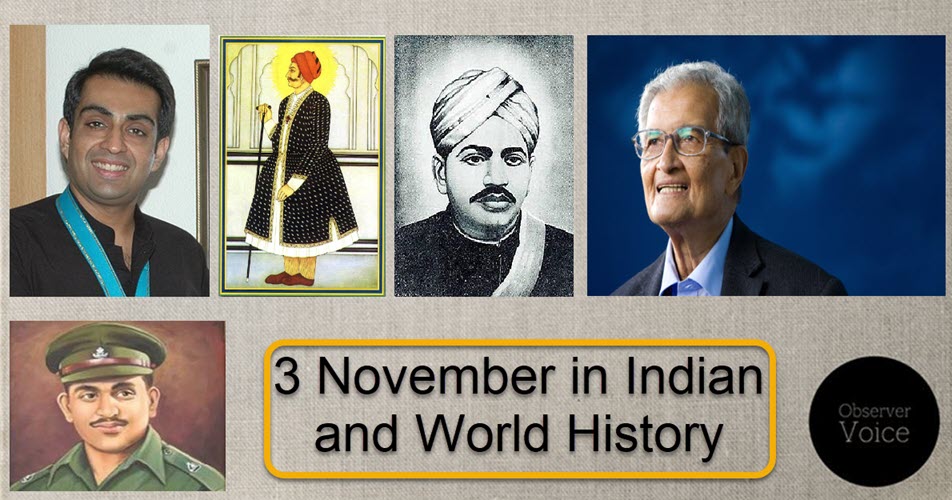 3 November in Indian and World History is celebrated, observed, and remembered for various reasons. 3 November is the birth anniversary of Sawai Jai Singh, Annapurna Maharana, Amartya Sen, and Manavjit Singh Sandhu.
3 November is also observed as the death anniversary of Major Somnath Sharma, and Chidambaram Pillai.
Birth Anniversary
3 November in Indian history is celebrated as the birth anniversary of the following personalities:
Sawai Jai Singh (3 November 1688 – 21 September 1743), a brave and very diplomatic king of Amer. He is also known as 'Jaisingh II' and was a lover of learning and religious from the beginning. Jai Singh had impressed the diplomat and fanatical emperor like Aurangzeb by introducing his extraordinary talent in his childhood. Aurangzeb had realized that it was necessary to get Jai Singh's cooperation in maintaining the power of the Mughal Empire. When Aurangzeb died and there was chaos in the Mughal Empire, at this time Jai Singh raised the flag of his rebellion. Sawai Jai Singh remained on the throne of Amer for 44 years. He was born on 3 November 1688 in Amer.
Annapurna Maharana (3 November 1917 – 31 December 2012), an India pro-independence activist active in the Indian independence movement. She was also a prominent social and women's rights activist. Maharana was born on 3 November 1917 in Odisha, India.
Amartya Sen, the first Asian to receive the 1998 Nobel Prize for Economics. He has propounded the concept of public welfare economics. He has written many books and pamphlets on various aspects of welfare and development. Amartya Sen does not equal the respect of ordinary economists. Apart from being an economist, he is also a humanist. The books he has written on famine, poverty, democracy, gender inequality and social issues are unique in themselves. Amartya Sen is a professor at Harvard University. He has also been a teacher at Jadavpur University, Delhi School of Economics and Oxford University. Amartya Sen has also taught as a visiting teacher at MIT, Stanford, Berkeley, and Cornell Universities. He was born on 3 November 1933 in Kolkata.
Manavjit Singh Sandhu, is an Indian shooter, mainly known for trap shooting. In 2006, he won a gold medal in trapshooting at the World Championships in Zagreb. He is the second Indian, who won a gold medal in the championship competition held at the world level. With this victory, Manavjeet had come to number one in the world ranking of trap shooting. He was awarded the 'Rajiv Gandhi Khel Ratna Award' for the year 2006 for this achievement. Sadhu was born on 3 November 1976 in Amritsar, Punjab.
Read More: 02 November in Indian and World History
Death Anniversary
3 November in Indian history is observed as the death anniversary of the following personalities:
Major Somnath Sharma (31 January 1923 – 3 November 1947), a company-commander of the Delta Company of the 4th Battalion of the Kumaon Regiment of the Indian Army, which served in the Indo-Pak war of October–November 1947. He was posthumously awarded the Param Vir Chakra by the Government of India. He is the first person to get Param Vir Chakra. He was martyred on 3 November 1947 at the age of just 24 in Badgam, Jammu and Kashmir.
Chidambaram Pillai (5 September 1872 – 3 November 1936), a Tamil language scholar and noted social reformer. His commentary on the famous Tamil text 'Tirukural' became very famous. Chidambaram Pillai propagated Swadeshi in the movement against 'Bang-Bhang' and played an important role in motivating the people against the foreign government. Chidambaram Pillai was sentenced to life imprisonment by the British government after declaring him a traitor. He died on 3 November 1936.
Read More: 01 November in Indian and World History
Notable events on 3 November in Indian and World history
3 November 1655 – England and France signed military and economic agreements.
3 November 1762 – The Treaty of Paris was signed between Britain and Spain.
3 November 1796 – John Adams was elected President of the United States.
3 November 1869 – Hamilton Football Club came into existence in Canada.
3 November 1903 – Panama gained independence from Colombia.
3 November 1938 – An organization named 'Assam Hindi Prachar Samiti' was established.
3 November 1948 – Jawaharlal Nehru, the then Prime Minister of India, gave his first speech at the United Nations General Assembly.
3 November 1957 – The Soviet Union sent a dog named Laika to space. He was the first dog animal that reached the sky in a spaceship and circled the earth.
3 November 1958 – The then Soviet Union conducted nuclear tests on this day.
3 November 1962 – Gold bond scheme was announced in India on this day in the wake of Chinese attack.
3 November 1984 – More than three thousand people were killed in the anti-Sikh riots in India.
3 November 1988 – The Air Force took over a Parachute Battalion group from Agra on this day.
3 November 1997 – The Seventh Summit of the G-15 Group began in Kuala Lumpur.
3 November 2000 – Direct to home broadcasting service was started by the Government of India for all.
3 November 2001 – The US banned Lashkar and Jaish-e-Mohammed.
3 November 2003 – Pakistan and China signed eight agreements in Beijing.
3 November 2004 – US President George Bush was elected President of the United States for the second time.
3 November 2007 – Pakistan People's Party chief Benazir Bhutto was placed under house arrest.
3 November 2008 – Union Bank of India reduced its lending rates by 0.5 percent.
3 November 2011 – The G20 summit began in Cannes, France to discuss the Eurozone debt crisis.