10 August: Remembering Phoolan Devi on her Birth Anniversary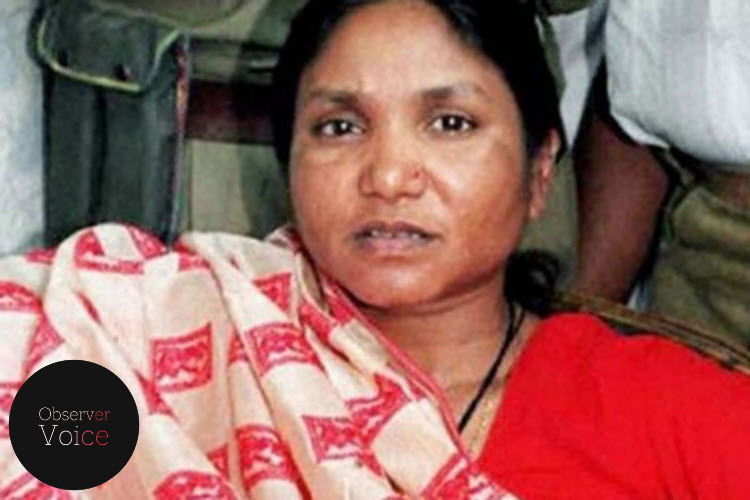 Phoolan Devi (10 August 1963 – 25 July 2001), popularly known as "Bandit Queen", was a bandit who later became a female rights activist and politician from the Samajwadi Party who served as a Member of Parliament.
Early Life
Phoolan Devi was born on 10 August 1963, in Uttar Pradesh, India.
When she was 10 years old, her rebellious attitude came to the fore. Phoolan rejected the idea of cutting down the neem tree which was rooted in a plot of land that belonged to the family's ancestors.
She felt that her cousin was trying to cheat her father by trying to grow crops on the land, so she stood firmly against his suggestion.
Phoolan was married off to Puttilal Mallah at 11 years old, who was almost thrice her age. Phoolan lived several miles away from Puttilal.
She thought her husband and his in-laws would take care of her rebellious nature and her profanity habit, but things turned out differently.
Despite many attempts, Phoolan managed to escape her husband's clutches and go back to her home after being raped and abused repeatedly by his husband.
In the meantime, Phoolan's cousin decided to punish her for humiliating her earlier. In a police complaint, she claimed Phoolan stole valuables from him, like a gold watch and a gold chain. She was arrested and abused by the cops for three days.
As a revenge act, her cousin burned her dad's crops. After her release, Phoolan once again attacked her cousin and hurled abuse at him.
With a few gifts from her parents, Phoolan got accepted by her husband at 16. Then she was told to live a peaceful life with her husband. Once again, she suffered a lot of beatings and abuse from her husband.
They returned the gifts and said they wouldn't accept her as their daughter-in-law in 1979.
Becoming a Bandit
Exactly why Phoolan turned to banditry isn't clear. Some say she got kidnapped by the dacoits, which sparked her decision to join them.
Some say she just wanted to start a new life, so she joined the bandits. In her autobiography, Phoolan Devi simply says that 'it was the choice of fate.'
As soon as she joined the dacoits, she fell in love with Vikram Mallah. He killed Babu Gujjar when he tried to rape Phoolan. After that, Vikram took over as leader. Then Phoolan and the rest of her gang went to her husband's village and stabbed him.
After a few weeks, Vikram was shot dead, while Phoolan was locked away in a room in the Rajput village of Behmai. She was gang raped several times by Rajputs.
Phoolan was 17 when she went through this. She escaped from Behmai after weeks of humiliation and met some Vikram friends. Then she formed a gang with these guys and became their co-leader.
In the process of forming the new gang, she fell in love with Man Singh Mallah. The new gang was mostly made up of Mallahs.
She came back to Behmai on February 14, 1981, to punish those men who had raped her a year earlier. But she couldn't find them. After she couldn't find any of the men, she killed 22 Rajputs by lining them up with 30 men.
Despite the Behmai incident sending shockwaves across the country, Phoolan became the 'Bandit Queen. Despite becoming India's most wanted criminal, it was hard to catch her because lower castes supported her. The media portrayed her as a hero and dubbed her the Robin Hood of India.
Surrender & Imprisonment
Phoolan Devi surrendered to the Madhya Pradesh police department. Before surrendering, she made a few demands.
She refused to surrender before the Uttar Pradesh police, and she said she would only surrender in front of Goddess Durga and Mahatma Gandhi. She also asked for the protection of her family while she served her sentence.
She spent 11 years in prison. After Mulayam Singh Yadav became Chief Minister of Uttar Pradesh in 1994, all her charges were dropped.
Political Career
Phoolan became a Buddhist after her release and lived a peaceful life. From Mirzapur, she ran for the 'Samajwadi Party' in the 11th Lok Sabha election in 1996.
After winning, she became a Member of Parliament. She lost her post in 1998, but re-won it in 1999.
Until the day she was murdered, she was a Member of Parliament (MP).
There was a Bengali movie called Phoolan Devi released in 1985. Rita Bhaduri, Suresh Oberoi, and Joy Banerjee starred in the movie.
A movie called Bandit Queen was made by veteran filmmaker Shekhar Kapur in 1994. It was based on Mala Sen's 1993 book, India's Bandit Queen: The True Story of Phoolan Devi.
Phoolan wrote her autobiography, The Bandit Queen of India: An Indian Woman's Amazing Journey from Peasant to International Legend.
Death
Phoolan Devi died on 25 July 2001, in New Delhi, Delhi, India.
Read More: 12 August in Indian and World History
Read Also: 10 August: World Biofuel Day 2022 and its Significance