Sardar Vallabhbhai Patel, Iron man of India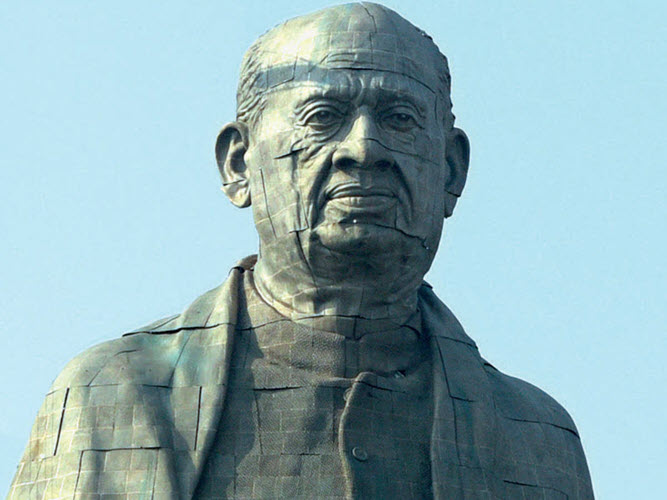 Sardar Vallabhbhai Patel, (31 October 1875- 15 December 1950) was an Indian Statesman. He served as the first Deputy Prime Minister of India from 1947 to 1950. And, known as the Iron man of India and known for reunification of India.
EARLY LIFE
Sardar Vallabhbhai Patel was born on 31 October 1875, Bombay, India. He attends his primary education at Karamasda. At the age 22, he completed his Matriculation. And then, he qualifies the Law Examination.
In 1900, he set up an independent office of District advocate in Godhra. After two years, he moved to Borsad.  As a Lawyer, he distinguished himself in presenting as Unassailable in precise manner and in challenging witness and British Judges. In 1908, his wife deid.
In 1910, he moved to London to study at the Middle Temple. In London, he studied diligently and passed the final Examination with high honours.
In 1913, he returned to India, and settled in Ahmadabad, and become the most successful "Vakil" in criminal law at the Ahmadabad. He was noted for his way of speaking, his smartness, and his English-Stylish clothes. He was not interested in Indian Political Activities, until 1917.
ROLE IN INDIAN FREEDOM MOVEMENT
In 1917, he met with M. Gandhi at the Political Conference in Godhra, and fundamentally changed his Life. Later, he joined Indian National Congress and become the secretary of Gujarat Sabha.
In 1918, he quit his job and joined the Kheda Satyagraha, it was a mass campaigns of peasants, landowners, and farmers of Gujarat against the decision of British Government of Increased taxes of Kheda region by 23%.
In 1920, Patel joined the Non-Cooperation Movement started by M. Gandhi. And travelled around the west to recruit 3,00,000 members. He also collected more than Rs 1.5 million for the party fund.
In 1923, when M. Gandhi was kept in jail. British Government issued a Law to banning the hosting of the Indian Flag. It was Vallabhbhai Patel who led the Satyagraha Movement in Nagpur against the British Law.
In 1930, he was arrested by British Government at the Salt Satyagraha and kept him on prison without any witnesses.
In 1931, he conducted the Krachi session of Indian National Congress. He again arrested and kept in prison from 1932 to 1934. Later, he was the main contender of the congress party at the 1937 election of Congress Presidency. However, because of Gandhi's pressure, Patel withdraws himself and Jawahar Lal Nehru was elected.
In 1942, after a day of Quit India Movement launched, Patel was arrested with the entire Congress Working Committee and kept in jail from 1942 to 1945.
After the Independence, Vallabhbhai Patel served as the deputy prime minister, minister of home affairs, minister of information, and minister of states
He also worked extensively against the alcohol consumption, untouchability, caste discrimination and for women emancipation in Gujarat and outside.
On his Birthday, every year National Unity Day is celebrated.
AWARDS
After his death. In 1991, He was awarded with Bharat Ratna, Highest Civilian award of India. Sardar Vallabhbhai Patel in Gujrat is named after him. The Statue of Unity is a monument dedicated to Patel, located in the Indian state of Gujarat, facing the Narmada Dam, 3.2 km away from Sadhu Bet near Vadodara.
DEATH
He died on 15 December 1950, Bombay, India.