Remembering Bhagat Singh, Sukhdev, Rajguru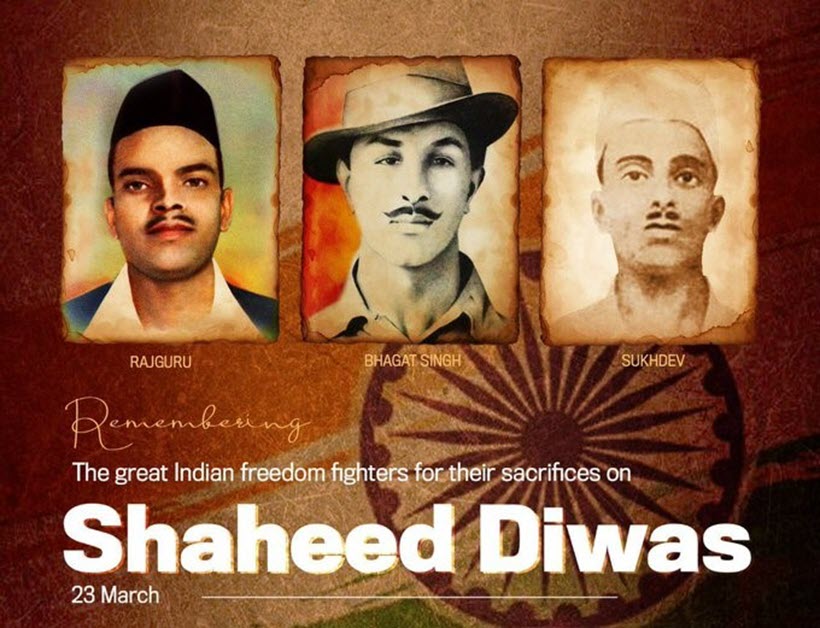 Remembering Bhagat Singh, Sukhdev, Rajguru on Shaheed Diwas
India observes Shaheed Diwas on 23 March to commemorate the sacrifice of freedom fighters Bhagat Singh, Sukhdev Thapar and Shivaram Rajguru. On 23 March 1931, the young freedom fighters were hanged in a Lahore jail. To remember their ultimate sacrifice, the day is observed as Shaheed Diwas across India. At the time of hanging, the revolutionaries Bhagat Singh, Rajguru, and Sukhdev were 23, 22 and 23 years old.
आजादी के क्रांतिदूत अमर शहीद वीर भगत सिंह, सुखदेव और राजगुरु को शहीदी दिवस पर शत-शत नमन। मां भारती के इन महान सपूतों का बलिदान देश की हर पीढ़ी के लिए प्रेरणास्रोत बना रहेगा। जय हिंद! #ShaheedDiwas pic.twitter.com/qs3SqAHkO9

— Narendra Modi (@narendramodi) March 23, 2021
History of Shaheed Diwas
Bhagat Singh was an Indian socialist revolutionary whose two acts of dramatic violence against the British. Sukhdev Thapar (15 May 1907 – 23 March 1931) and Shivaram Hari Rajguru (24 August 1908 – 23 March 1931) was also an Indian revolutionary and a member of the Hindustan Socialist Republican Association.
In December 1928, Bhagat Singh and an associate, Shivaram Rajguru, fatally shot a 21-year-old British police officer, John Saunders, in Lahore, British India, mistaking Saunders, who was still on probation, for the British police superintendent, James Scott, whom they had intended to assassinate. They believed Scott was responsible for the death of a popular Indian nationalist leader Lala Lajpat Rai as a result of having ordered a lathi charge in which Rai was injured, and, two weeks thereafter, died of a heart attack.
Later, in order to avenge the death, they performed another daring task and on 8 April 1929, they threw bombs over the Central Legislative Assembly. As they kept saying "Inquillab Zindabad," Singh, Rajguru and Sukhdev were arrested and were charged with murder. In 1931, they were hanged on 23 March in the Lahore Jail. Their cremation ceremony was performed at the banks of the Sutlej River. National Martyrs Memorial is located at Hussainiwala, where Sukhdev, along with Bhagat Singh and Rajguru, were cremated.
B. R. Ambedkar, writing in an editorial in his newspaper Janata, blamed the British government for its decision to go ahead with the executions, despite strong popular support for the revolutionaries.