"Jyotirgamaya", an event for unsung talent, ends
In New Delhi, Jyotirgamaya, a festival that showcased the talent of rare musical instruments from across the country, included street performers, entertainers on trains, temple performers, etc.
Smt Meenakashi Lekhi, Minister of State for Culture and External Affairs, Shri Arjun Ram Meghwal, Minister of State for Culture and Parliamentary Affairs, and Shri Govind Mohan, Secretary, Ministry of Culture were present.
Mr. Arjun Ram Meghwal, Minister of State for Culture, presented a special performance of Kabir Gayan. Shri Meghwal explained the significance of the Kabir tradition by saying it is crucial to understand Sant Kabirdasji's vision.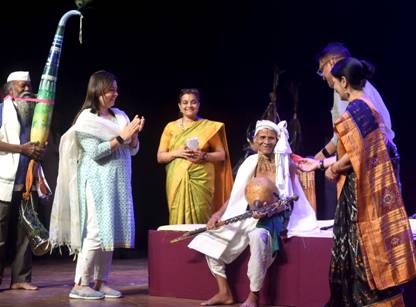 In her address, Smt. Meenakashi Lekhi said that it is the responsibility of the youth to take forward our rich cultural history. The rare instruments played during the festival have given people a voice when words couldn't.
Smt. Meenakashi Lekhi felicitated the senior most artiste of Brahm Veena, Shri Ananda Bag. This was followed by presentations of artistes on various rare musical instruments. Secretary, Sangeet Natak Akademi extended his heartfelt gratitude to everyone for making the event a success.
The five-day festival showcased the talent of unsung artists from all over the country. 15 performers performed a day. We did this through a social media campaign where we asked entrants to send a small clip. The entries were reviewed and a total of 75 performances were selected after consulting eminent musicians and reputed institutions.
The Lalit Kala Gallery held a live exhibition showcasing the making of musical instruments like the Kamaicha, Ravanhatha, Rabab, Pung, Sarangi, Jodiya Pava, and Khol, from various parts of our country.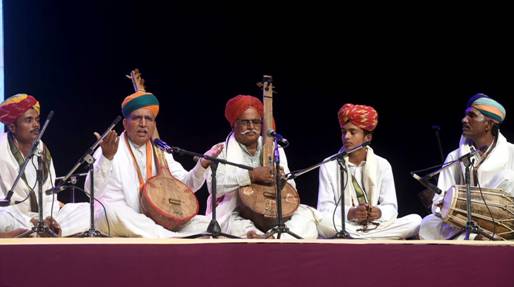 Simultaneously, there were workshops conducted on the making of rare musical instruments such as the Maddlam, Rudra Veena, Dukkad, Shehnai and Nadaswaram. These workshops were visited daily by artists, scholars, researchers, students, etc. with enthusiasm. An exhibit of 20 rare musical instruments was also curated.