International Day of Sport for Development and Peace and its Significance
International Day of Sport for Development and Peace (IDSDP) is observed every year on 06 April. Its aim to offer opportunity to showcase the role of sport to drive social change and community development, and to foster peace and understanding.
International Day of Sport for Development and Peace promotes social changes through the immense and invaluable power of sports.
At the Opening Ceremony of the Olympic Winter Games Beijing 2022, on 4 February, IOC President Thomas Bach called for peace in front of a global TV audience of hundreds of millions of people.
In our fragile world, where division, conflict and mistrust are on the rise, we show the world: yes, it is possible to be fierce rivals, while at the same time living peacefully and respectfully together. This is the mission of the Olympic Games: bringing us together in peaceful competition. Always building bridges, never erecting walls. Uniting humankind in all our diversity," said President Bach, and concluded: "Give peace a chance.
Theme of International Day of Sport for Development and Peace 2022
This year the theme for IDSDP is climate action in sports. As a signatory of the UN Sports for Climate Action network the IFF wants to support this event.
Some remarkable display of solidarity through sports
A unique flag displayed the map of the whole of Korea and was carried by two athletes, Jung-Chul Pak from the North and Jeong Eun-Sun from the South. The delegation marched under the name "Korea", and athletes from both countries saluted the crowd as one. This act of solidarity was repeated at the Opening Ceremonies of Athens 2004 and Turin 2006, before history was made at PyeongChang 2018.
At the UN General Assembly in October 2015, confronted with the global refugee crisis that has seen millions of people in the world displaced, the IOC President announced the creation of the Refugee Olympic Team – the first of its kind – to take part in the Olympic Games Rio 2016.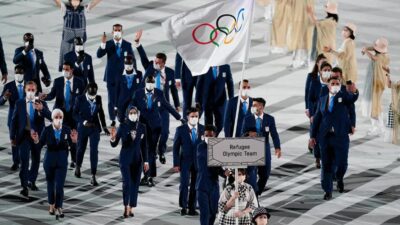 History of International Day of Sport for Development and Peace
The UN General Assembly declared on 23 August 2013 that 6 April would be the "International Day of Sport for Development and Peace". The United Nations, with this commemoration, "invites States, the United Nations system and in particular the United Nations Office on Sport for Development and Peace, relevant international organizations, and international, regional and national sports organizations, civil society, including non-governmental organizations and the private sector, and all other relevant stakeholders to cooperate, observe and raise awareness of the "International Day of Sport for Development and Peace"