With yet another significant achievement, India has become the fastest country in the world to achieve over 70 lakh vaccinations against Covid-19.
India accomplished this feat in only 26 days, while it took 27 days for the US and 48 days for the UK to reach the same figures. India has also been the fastest to touch the 6 million mark a few days back.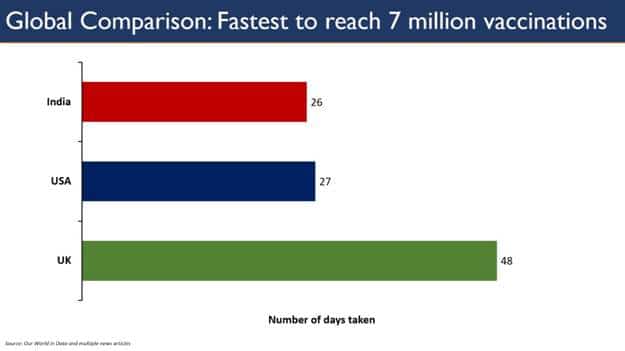 As of 11th February 2021, till 8 AM, more than 70 lakh (70,17,114) beneficiaries have received the vaccination under the countrywide COVID19 vaccination exercise.
The total cumulative vaccination coverage of 70,17,114 includes 57,05,228 healthcare workers (HCWs) and 13,11,886 frontline workers (FLWs). 1,43,056 sessions have been conducted so far.
4,05,349 beneficiaries (HCWs- 94,890 and FLWs- 3,10,459) were vaccinated on Day-26 (10th Feb 2021) across 8,308 sessions.
The number of beneficiaries being vaccinated every day has shown a progressive increase.
13 States/UTs have vaccinated over 65% of the registered healthcare workers (HCWs). Bihar leads with over 79% of the registered HCWs vaccinated.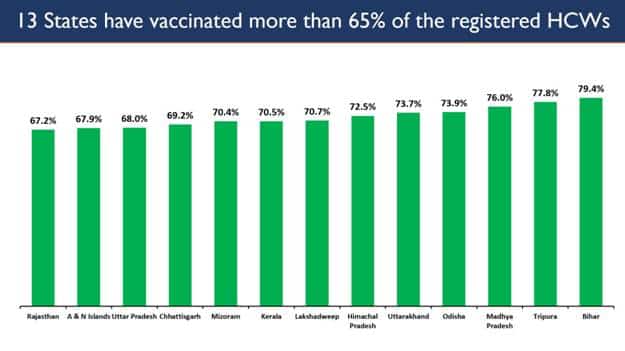 7 States/UTs have reported less than 40% vaccinations of the registered healthcare workers (HCWs). Puducherry has recorded the lowest vaccination performance of 17.5%.