Cadets from 19 friendly countries to participate in the NCC Republic Day Camp 2023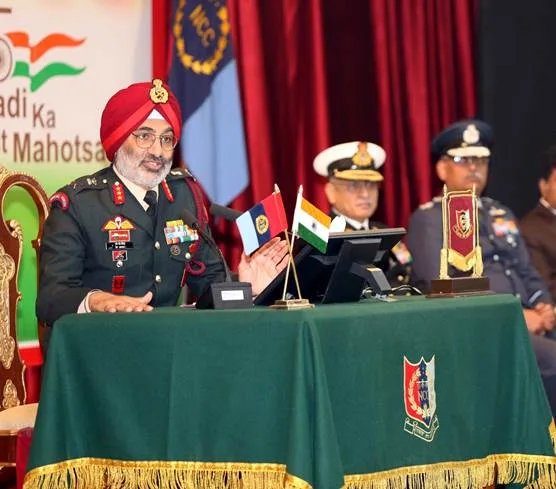 Pic- Director General NCC Lt Gen Gurbirpal Singh addressing media at a press conference in New Delhi on January 06, 2023
The 74th NCC Republic Day Camp (RDC) 2023 began on January 02, 2023, at Cariappa Parade Ground in Delhi Cantt with the participation of cadets and officers from 19 friendly countries. During the one-month camp, 2,155 cadets from all 28 states and 8 union territories will participate, including 710 girls.
Lt Gen Gurbirpal Singh, Director General NCC, said this at a press conference in New Delhi on January 6, 2023.
According to the DG NCC, the cadets and officers participating in RDC 2023 come from 19 friendly countries, including the United States, the UK, Argentina, Brazil, Mongolia, Russia, Kyrgyz Republic, Kazakhstan, Tajikistan, Uzbekistan, Nepal, Vietnam, Maldives, Mozambique, Mauritius, Seychelles, Sudan, New Zealand, and Fiji, among others. This is the highest participation of foreign cadets ever in any Republic Day camp.
 According to Lt Gen Gurbirpal Singh, cadets will take part in cultural competitions, national integration awareness programs, and institutional training competitions at the camp. On 26 January 2023, two NCC marching contingents will take part in the Republic Day Parade. He said this long list of activities would culminate in the PM's Rally on 28 Jan 2023.
A major objective of the Republic Day Camp is to expose cadets to the rich culture and traditions of our nation by participating in important events that take place in the National Capital during Republic Day and Beating the Retreat, as well as to sharpen their personal traits and strengthen their value system.
Over the last year, RDC cadets have been screened rigorously at Group and Directorate levels. Cadets had been screened between four and five times before reaching RDC-23.
Lieutenant General Gurbirpal Singh also talked about NCC's biggest accomplishments in 2022. He thanked cadets for their contributions to initiatives like Puneet Sagar Abhiyan, Saheedon Ko Shat Shat Naman, International Yoga Day, Har Ghar Tiranga, Unity Flame Run, etc.
The DG NCC praised young Cadets for making the Puneet Sagar Abhiyaan popular across India by mobilizing local people to get involved in this noble event. There have been 13.5 lakh NCC cadets participating in the abhiyaan so far, and almost 208 tons of plastic waste have been collected, of which 167 tons were recycled.
Lt Gen Gurbirpal Singh also mentioned the special Ek Bharat Shreshtha Bharat – Independence Day Camp (EBSB-IDC) that was organized by NCC from 31 Jul – 16 Aug 2022 as part of Independence Day Celebrations at the Red Fort to commemorate 75th Independence Day, which aimed to enable cadets hailing from each district of the country to witness the 75th Independence Day event at Red Fort and also showcase the cultural diversity of India thereby promoting National Integration & Strengthening 'Unity in Diversity through Cultural Exchange Programmes.
The exceptional performance displayed by NCC cadets in various sports was also applauded by the DG NCC. He further mentioned that the NCC Junior Girls' Hockey team won the Jawaharlal Nehru Hockey Tournament for the second year in a row.