7 January: Remembering Yasmin Ahmad on Birth Anniversary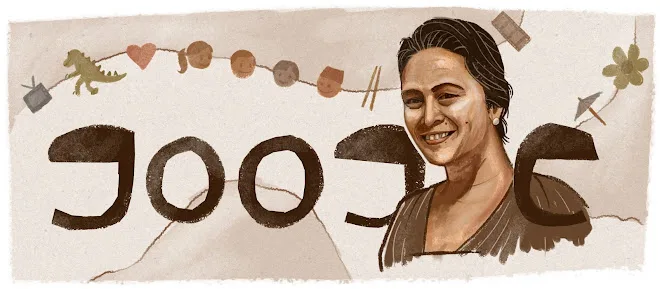 Image Courtesy: Google Doodle
Yasmin Ahmad (7 January 1958 – 25 July 2009) was a Malaysian film director and screenwriter. She was known for her emotional and thought-provoking films, which often explored themes of family, love, and cultural relationships. Ahmad's films were popular in Malaysia and around the world, and she was considered one of the most influential figures in the Malaysian film industry.
Life and Career
Yasmin Ahmad was born on 7 January 1958  Kampung Bukit Treh, Johor in Malaysia. A graduate of arts majoring in politics and psychology from Newcastle University in England. she worked as a trainee banker in 1982 for two weeks and then worked for IBM as a marketing representative. Meanwhile, she moonlighted as a blues singer and pianist by night. Yasmin began her career in advertising as a copywriter at Ogilvy & Mather and in 1993 she moved to Leo Burnett as joint creative director with Ali Mohammed. In the 1990s, she began working in the film industry, writing and directing television commercials and music videos.
Ahmad's feature film debut was the critically acclaimed "Sepet," which was released in 2004. The film, which tells the story of a romance between a Malay girl and a Chinese boy, was a commercial and critical success and helped to establish Ahmad as a major talent in the Malaysian film industry. Ahmad's other notable films include "Gubra," "Muallaf," and "Talentime."
Ahmad was known for her ability to tell emotional and powerful stories, and her films often explored themes of love, family, and cultural relationships. She received numerous awards for her work, including the National Film Award for Best Director for "Sepet" and "Muallaf."
On Thursday, 23 July 2009, Yasmin suffered a stroke. She was rushed to the Damansara Specialist Hospital where she underwent a neurosurgery procedure to reduce the swelling in her brain. On Saturday, 25 July 2009, more than 48 hours after the surgery, Yasmin Ahmad succumbed to her injury and was pronounced dead.
 Award and Legacy
Yasmin Ahmad was a highly acclaimed filmmaker, and she received numerous awards for her work. She won the National Film Award for Best Director twice, first for "Sepet" in 2005 and then for "Muallaf" in 2008. In addition, she received the Best Director award at the Malaysia Film Festival for "Gubra" in 2006 and the Best Screenplay award at the festival for "Talentime" in 2009.
Ahmad's films were also recognized internationally, with "Sepet" winning the Grand Prize at the Fukuoka Asian Film Festival in Japan and the Audience Award at the Pusan International Film Festival in South Korea. "Talentime" was nominated for the Golden Leopard award at the Locarno International Film Festival in Switzerland.
Ahmad's legacy as a filmmaker extends beyond her award-winning work. She was a pioneering figure in the Malaysian film industry and was known for her ability to tell powerful and emotional stories that resonated with audiences around the world. Her work helped to bring a greater awareness of Malaysian culture and society to a global audience, and she is remembered as a major figure in the country's film history.
On 7 January 2014, Google Doodle celebrated Yasmin Ahmad's 56th Birthday.