7 April in Indian and World History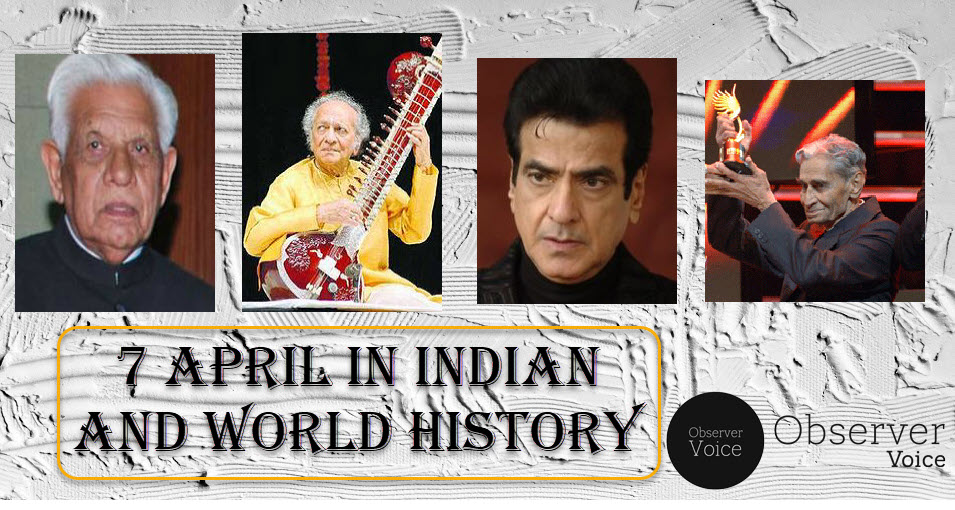 7 April in Indian and World History is celebrated, observed, and remembered for various reasons. 7 April is the birth anniversary of Kashmiri Lal Zakir, Ravi Shankar, and Jitendra.
7 April is also observed as the death anniversary of Janaki Vallabh Shastri, and Venkatrama Pandit Krishnamurthy.
Birth Anniversary
7 April in Indian history is celebrated as the birth anniversary of the following personalities:
Kashmiri Lal Zakir (7 April 1919 – 31 August 2016), a noted Urdu poet, novelist, and short-story writer. He was also the director of Haryana Urdu Academy. His works became popular not only in India but also in Pakistan. Kashmiri Lal Zakir used to be the initiator of the tradition of All India Urdu Mushairas of different regions of Haryana like Ambala, Karnal, Panchkula, Chandigarh, Patiala, etc. He was born on 7 April 1919.
Ravi Shankar (7 April 1920 – 11 December 2012), the greatest proclaimer of the excellence of Indian classical music in the world. He earned fame as a sitar player. Ravi Shankar and Sitara are as if made for each other. He was considered one of the greatest musicians of this century. Ravi Shankar gained a lot of fame abroad. He was very popular and successful abroad. A kind of spiritual peace is found in the music of Ravi Shankar. He was born on 7 April 1920.
Jitendra is a renowned Hindi cinema actor, film producer, and chairman of Balaji Telefilms, Balaji Motion Pictures, and ALT Entertainment. He is known for his dance skills in Indian cinema. His real name is Ravi Kapoor. He started his film career with V. Shantaram's film 'Navarang' released in 1959, in which he got the opportunity to play a small role. He was born on 7 April 1942 in Amritsar, Punjab.
Read More: 6 April in Indian and World History
Death Anniversary
7 April in Indian history is observed as the death anniversary of the following personalities:
Janaki Vallabh Shastri (5 February 1916 – 7 April 2011), a famous poet. He was awarded the 'Bharat Bharti Award' by the Government of Uttar Pradesh. He was one of the few poets who got a lot of respect from the readers of Hindi poetry. The poetic world of Acharya Janaki Vallabh Shastri is very diverse and extensive. Initially he wrote poems in Sanskrit. Then came to Hindi with the inspiration of Mahakavi Nirala. He died on 7 April 2011.
Venkatrama Pandit Krishnamurthy (26 November 1923 – 7 April 2014), a well-known name in the Indian cinema industry. He is a famous cinematographer of Hindi films. The magic of his camera can capture the sadness of smiling lips, the dampness of dark circles under eyes, the humming warmth of rosy winters, and the fragrance of love emanating from the letters hidden in the books. He was associated with the team of actor-director Guru Dutt. In Guru Dutt's black and white films like 'Pyaasa', 'Kaagaz Ke Phool', 'Chundahvin Ka Chand' and 'Saheb Bibi Aur Ghulam', he enthralled the audience by creating miracles with light and camera. He was also selected for the country's highest honor 'Dada Saheb Phalke Award' (2008). He was born on 7 April 2014.
Read More: 5 April in Indian and World History
Notable events on 7 April in Indian and World history
7 April 1509 – France declared war on Venice.
7 April 1827 – The British chemist John Walker started selling matches.
7 April 1919 – Establishment of the Babylonian Soviet Republic.
7 April 1921 – Revolutionary leader Sanayat Sen became the first President of the Republic of China.
7 April 1939 – Italy occupied Albania during World War II.
7 April 1940 – Booker T Washington became the first black American to appear on US postage.
7 April 1946 – Syria gained independence from France.
7 April 1948 – The World Health Organization, the United Nations' health affairs agency, was established, hence this day is celebrated as "World Health Day".
7 April 1969 – The birth of the Internet as a project of the US military.
7 April 1978 – US President Jimmy Carter banned the development and production of the controversial neutron bomb.
7 April 1986 – Leonid Kantorovich a Russian mathematician, economist, and Nobel Laureate, died.
7 April 1988 – The US conducted a nuclear test at the Nevada Test Center.
7 April 1994 – Rwanda's President Juvenal Hevyarimana and Burundi's President Cyprian Ntaymita died rocket attack on Kigali airport.
7 April 1998 – World Health Organization's declaration of celebrating World Health Day as "Women's Medicine Day".
7 April 2000 – In India, the Delhi Police had busted a cricket match-fixing and betting racket worth crores of rupees.
7 April 2000 – The publication of the world's smallest newspaper 'Your Honor' started from Brazil.
7 April 2003 – the US military took control of the Iraqi capital, Baghdad.
7 April 2008 – ULFA, a banned militant organization in Assam, celebrated its 30th foundation day. The two-day India-Africa first summit meeting begins in New Delhi