17 January: Remembering Jyoti Basu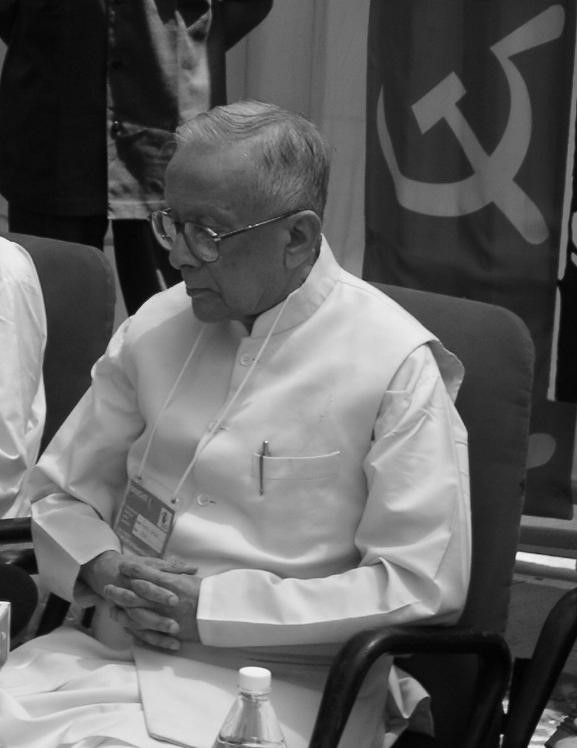 Jyoti Basu||Source: commons.wikimedia.org
The author of book Mother Teresa, Navin B. Chawla, once recalled his discussion with Jyoti Basu. He asked, "you are a communist, and Mother Teresa is a Catholic nun. She had an unshakeable belief about god and you are a staunch atheist. How do you maintain mutual respect? Why do you keep your door always open for her?" He smiled and said, "We both share and love for poor! It was not just mutual respect despite different fundamental beliefs, but immense respect, care, and compassion for others. He always maintained an open door for her. Jyoti Basu once even allowed to interrupt cabinet meetings because Mother Teresa needed urgently to meet him.
"She makes me a bad Marxist since she makes me believe in godliness," is what Mr. Basu said during a meeting with B. K. Chaturvedi, the author of book Messiah of the Poor.
He was born on 8 July 1914, in Kolkata and died on 17 January 2010. He served as a chief minister of West Bengal state from 1977 to 2000 and was a cofounder of the Communist Party of India (Marxist).
His father, Nishikanta Basu was a doctor and mother, Hemlata Basu was a housewife. He enjoyed an affluent childhood. He completed his intermediate education from St. Xaviers in 1932. Subsequently, he took an undergraduate course in English from the Hindu College, Calcutta (later renamed to Presidency College). Following his graduation in 1935, he acquired admission in the University College, London (UCL) to study Law.
Basu's time in England also marked the start of his political education, as he came under the influence of lecturer and political theorist Harold Laski. On his return to Calcutta in 1940, he became a party worker for the Communist Party of India (CPI), participating in the organization of rail workers near the end of the British colonial era. When India became independent of British rule in 1947, Basu was elected to the Bengal Legislative Assembly.
He married Basanti Ghosh in 1940, who died in 1942. Later he married his second wife Kamala Devi in 1948. In 1946 he was elected to Bengal's Legislative Assembly and was secretary of the West Bengal Provincial Committee of the CPI from 1952 to 1957. When the old CPI split in 1964, he was the kingpin of the new Communist Party of India (Marxist). He served as deputy chief minister of West Bengal in 1967 and 1969 in the United Front government; from June 1977 to November 2000, he was the chief minister for an unprecedented five terms for the Left Front government.
Despite enjoyed affluent lifestyle during childhood, he maintains frugal lifestyle preferred by most of the CPI (M) leadership. Once Siddhartha Shankar Ray, 5th Chief minister of West Bengal writes about simplicity of food cooked at the Mr. Basu's Home. He even recalls the discussion with Basu's wife, Kamla Basu saying "Inko batayiye ko ghar kaise chalaya jata hai, ye sara wetan party ke account me de dete hain. Aur mere liye ghar chalana mushkil ho jata hai (Teach him how to run a house. He sends all his salary to party account and nothing much is left to run the house)."  
In 1996, Basu was the consensus leader of the United Front after Atal Bihari Vajpayee's short-lived 13-day government, but the CPI(M) decided not to participate in the government — a decision Basu later stated as a "historic blunder". Somnath Chatterjee who treats Jyoti Basu as his mentor termed the incident as monumental mistake. Lalu Prasad Yadav, Once RJD Supremo, recalls that He was not just communist leader, but he was leader of all and always has stature above PM Post.
Though he had a great stature, he was not without controversy. In contrast to the Spartan lifestyle preferred by most of the CPI (M) leadership, Basu was known for his European sojourns during the oppressive Calcutta heat. He was a strong supporter of the abolition of English language education in primary schools but his son, Chandan Basu, and grandchildren were schooled at elite Anglophone institutions in Calcutta. It was also alleged that Chandan made the most of his father's political position to become a business tycoon. In 2006 the Supreme Court of India issued notices to Basu and others in connection with land allotments at Salt Lake City.
Basu suffered multiple organ failure on 1 January 2010, and was admitted to AMRI Hospital, Salt Lake. He died on 17 January 2010. Though he ono longer exists, he remained immortal in the mind of people. As per his wishes, his body and eyes were handed over to SSKM Hospital, Kolkata, for research.