12 July in Indian and World History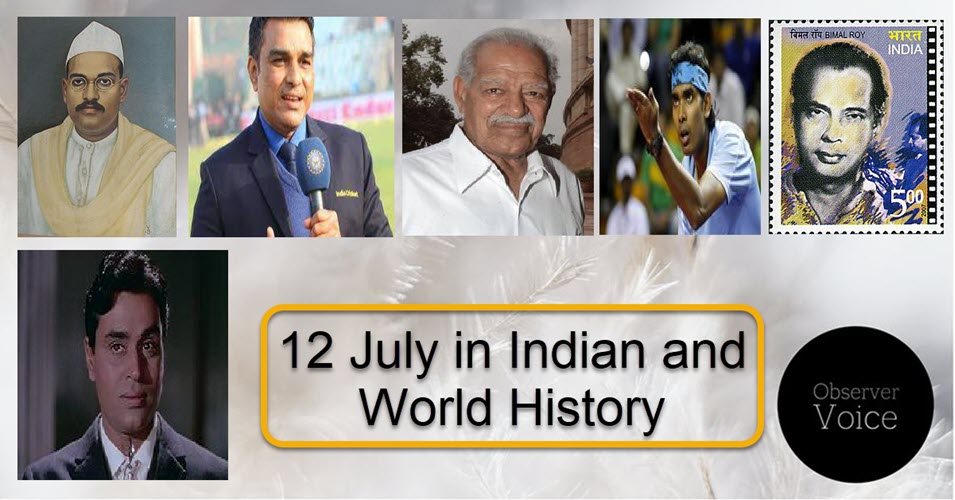 ---
12 July in Indian and World History is celebrated, observed, and remembered for various reasons. 12 July is the birth anniversary of Durga Prasad Khatri, Sanjay Manjrekar, Archant Sharath Kamal, and Bimal Roy.
12 July is also observed as the death anniversary of Rajendra Kumar, Dara Singh, Pran Krishna Sikand.
Birth Anniversary
12 July in Indian history is celebrated as the birth anniversary of the following personalities:
Durga Prasad Khatri (12 July 1895 – 5 October 1974), the famous Hindi novel writer. He was the son of the famous Devkinandan Khatri, who was famous but also in the whole world as a magical novelist. The main works are 'Retribution', 'Lalpanja', 'Raktamandal', 'White Shaitan', 'Suvarnarekha', 'Swargpuri', 'Sagar Samrat Saket', 'Kalachore', 'Rohtas Math' etc. Khatri was Bron on 12 July 1895 in Varanasi District Uttar Pradesh.
Sanjay Manjrekar, a former Indian cricketer. And Manjrekar used to play Test and One Day International cricket matches for the Indian team during his time. He played 37 Test matches and 74 ODIs between 1987 and 1996. Sanjay Manjrekar is the son of Vijay Manjrekar, who played 55 Test matches for India between 1952 and 1965. He started doing commentary after retirement from cricket. He is counted among the popular commentators of the country. Manjrekar was born on 16 July 1965 in Mangalore.
Archant Sharath Kamal, an Indian sportsperson who won a gold medal in the table tennis championship at the Commonwealth Games. He was awarded the 'Arjuna Award' in the year 2004. Archant Sharath Kamal is considered the best player in Indian table tennis ever. He is ranked 69th according to the world rankings of June 2016. He represented the country in the 2004 Athens Olympics. He got Many Awards including 'Arjuna Award' (2004), 'National Championship' (2003), 'Commonwealth Games' (2006) Kamal was  Born on 12 July 1982 in Tamil Nadu.
Bimal Roy (12 July 1909 – 8 January 1966), an Indian film director. which was then part of the Eastern Bengal and Assam province of British India and is now part of Bangladesh. He produced many movies in Bengali and Hindi. and the International Prize of the Cannes Film Festival. Madhumati won 9 Filmfare Awards in 1958, a record held for 37 years. Roy was Bron on 12 July 1909 in Eastern Bengal and Assam, British India.
Read More: 11 July in Indian and World History
Death Anniversary
9 July in Indian history is observed as the death anniversary of the following personalities:
Rajendra Kumar (20 July 1929 – 12 July 1999), Every film of Rajendra Kumar was such a hit that he used to do excellent business for many years, and this was the reason why people used to call him 'Jubilee Kumar'. an Indian film actor. Rajendra Kumar was active in films in the 1960s and 1970s. Apart from acting in films, he also produced and directed several films. He made such a splash of his romantic personality in the cinema world, his films became memorable one. Be it 'Aarju' or 'I Milan Ki Bela', a different form of Rajendra Kumar was seen by the audience in every film. He died on 12 July 1999.
Dara Singh (19 November 1928 – 12 July 2012), a world-famous freestyle wrestler and famous actor of his time. Dara Singh was also a member of the Rajya Sabha from 2003-2009. He made a name for himself in the world of sports and entertainment alike and got his work done. This was the reason why he was known both as an actor and as a wrestler. He won the Commonwealth World Championship in 1959 by defeating former world champion Jorge Guardianca. He later became the world champion of freestyle wrestling by defeating world champion Lou Themes of America. Singh died on 12 July 2012.
Pran Krishna Sikand (12 February 1920 – 12 July 2013), a well-known hero, villain, and character actor in Hindi films. Pran was the kind of actor who always has makeup on his face and a storm of emotions, who pours his life into each character to make him feel that without him the character would have been worthless. Even today people have not forgotten his style of dialogue delivery. Sikand died on 12 July 2013.
Read More: 10 July in Indian and World History
Notable events on 12 July in Indian and World history
12 July 1823 – The first steamship built in India 'Diana' was unveiled in Calcutta (now Kolkata).
12 July 1912 – Queen Elizabeth' became the first foreign film to be screened in America.
12 July 1918 – A Japanese battleship exploded in the Gulf of Takayama. In which 500 people died.
12 July 1935 – Belgium recognized the then Soviet Union on this day.
12 July 1943 – Russia defeated the Nazis in the Battle of Prochorovka 12000 dead.
12 July 1949 – The ban imposed on the RSS was conditionally lifted after the assassination of Mahatma Gandhi.
12 July 1957 – American surgeon Leroy E. Burney suggested that there is a direct link between smoking and lung cancer.
12 July 1960 – Bhagalpur and Ranchi Universities were established.
12 July 1970 – The severe flood in the Alaknanda river killed 600 people.
12 July 1973 – A fire broke out in the National Personal Records Center of America.
12 July 1989 – Lotte World Adventure opened in Seoul, South Korea.12 July 1998 – 1.7 billion people watched the final of the Football World Cup between France and Brazil.
12 July 1998 – France defeated Brazil 3–0 in the final of the 16th World Cup on this day.
12 July 2001 – India and Bangladesh 'Maitri' bus service between Agartala and Dhaka started on this day.
12 July 2003 – North and South Korea agreed to talks on the nuclear weapons issue on this day.
12 July 2005 – Famous cricket umpire David Shepherd took retirement from international cricket on this day.
12 July 2006 – Israel invaded Lebanon after two of its soldiers were taken, hostage.
International Malala Day is celebrated every year on July 12 to honour the Pakistani activist Malala Yousafzai. Malala, who now advocates for women's rights to education around the world, was not allowed to attend school as a child. Malala, however, did not accept it and refused to stay at home. As a result of her advocacy for providing education to young girls, she was nearly killed.
Paper bag day is observed annually on 12 July. It is aimed at raising awareness about the benefits of using paper bags instead of plastic bags. As we become aware of the dangers of plastic bags, the observation enhances awareness to the public of the better alternative like paper bags.