10 key Highlights of Union Budget 2022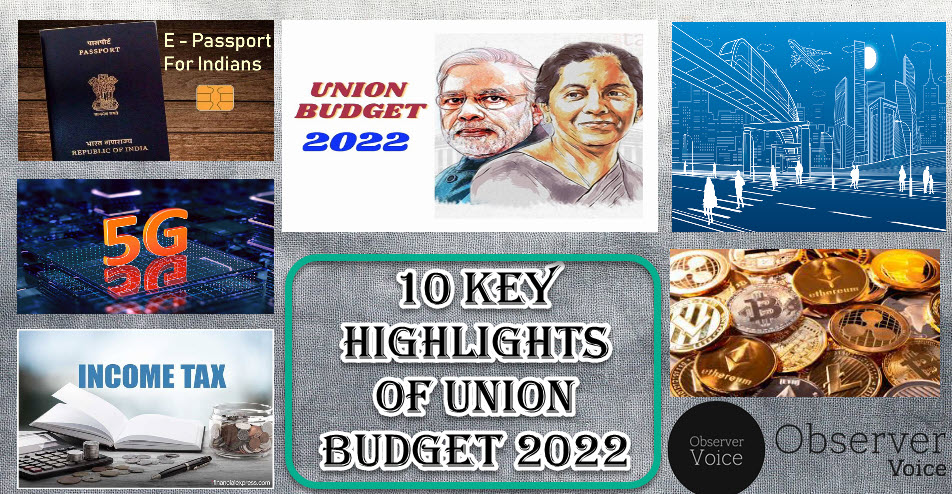 Emerging from the shadow of pandemic India is aiming for 9.27% growth the target is to become a five trillion-dollar economy it's not easy given the recurring waves of the Wuhan virus. What the economy needed was a booster shot of bold reforms, Has the union budget 2022 delivered that? We'll tell you the 10 key Highlights of Union Budget 2022.
1 Tax on Digital Assets
The government will not ban digital assets instead they will tax them, last year there were reports that the government could ban all forms of cryptocurrencies assets like bitcoin and Ethereum. There is no any law to regulate them, yet finance minister Nirmala Sitharaman said digital assets will be taxed at the rate of 30%. A thirty percent tax on all digital assets which includes everything cryptocurrencies, NFTs or non-fungible tokens there are no exemptions here. There is no Clarification on what kind of tax is this it's on income or transfer of assets so if you make profits by investing in crypto or if you transfer these assets to another person you will pay a tax of 30% now this is bittersweet news for investors bitter because they will be taxed now and sweet because the assets will not be banned this move is a signal that India is going to regulate crypto not ban it.
2 RBI to Introduce Digital Rupee
India is getting its very own digital currency. The Reserve Bank of India will issue it in the new financial year that's 2022 – 23. Finance minister Nirmala Sitharaman said, "introduction of a central bank digital currency will give a boost a big boost to digital economy digital currency will also lead to a more efficient and cheaper currency management system". So, we'll have the Indian rupee on an Indian blockchain now. There are 9 countries so far with their digital currency India wants to be on that list and this would mean fundamental changes in the Indian financial system.
3 No Hike in Income Tax
There is no Change in Income tax. People have to pay the same income taxes as last year, what has changed is how you file those tax returns you can now file an updated return within two years so if you get it wrong the first time you can fix it within two years.
4 Mega Connectivity Push
Finance Minister Nirmala Sitharaman on Tuesday allocated the first-ever outlay of Rs 20,000 crore toward Gati Shakti in the Union Budget for the financial year 2022-23 for integrated planning and coordinated implementation of infrastructure connectivity projects. A Major connectivity push, Government wants to spend big on infrastructure twenty thousand crore rupees that's more than two billion dollars is to be spent on the prime minister's Gati Shakti Plan to facilitate faster transfer of goods speeds up cargo movement and improve the logistics network. This money will be spent on roads, railways, airports ports, mass transport, waterways, and logistics infrastructure. The biggest spending will be on national highways in the next three years India wants to build 400 new trains and 100 cargo terminals.
5 Big Investment in Infrastructure
Government plans to spend a whopping 100 billion dollars on infrastructure that's 35.4% more than 2021 and doubles what it spent before the pandemic, and this is direct spending meaning the government will foot the bills for all these projects. Infrastructure projects of all kinds will benefit from this. The government is focusing on Infrastructure Development, Capital Expenditure is stepped up by 35.4%, it increased to Rs 7.50 Lakh crore from 4.50 Lakh Crore. In simple words, more expenditure on construction may generate more employment. National Highways network will be expanded by 25000 Km in FY2023.
Read More: How Pandemic impact on Consumer behavior
6 Boost for Make in India in Defence
There is a marginal increase in the defense budget, the allocation this year is 5.25 lakh crore rupees that's more than 60 billion dollars it's an increase of almost five percent from last year, but the bulk of the budget will go to Indian manufacturers. 68% of the procurement will happen from domestic players while 25% has been set aside for research and development.
7 E-Passports for Indians
Starting this year Indians will be issued e-passports they were first announced in 2019 and they were rolled out so far 20,000 officials and diplomats have been issued e-passports. These e-passports will come with a chip a small silicon chip embedded on the back of the passport. This chip will contain all the necessary information like your name, your address, your passport number, and data on your last 30 visits. More than 100 countries have such passports
8 5G Technology in 2023
The mobile networks are to be Upgraded with 5g which is coming next year. Spectrum will be auctioned this year. The government has taken steps to make India a hub for 5g manufacturing, incentives have been announced for equipment makers. There is also a proposal to bring the internet to Indian villages. The government is going to award contracts to lay optical fiber cables around the country.
9 Digital Education
Digital Education is getting a major push in this budget. There is a plan to develop a digital university, the finance minister said it will provide students with world-class education. There is another proposal called E-Vidya under this the government of India had earlier set up 12 TV channels to teach students, this will now be expanded to 200 TV channels the idea is to provide supplementary education in different regional languages.
10 Mental Health
The finance minister Nirmala Sitharaman in her Budget Speech said, "to better the access to quality mental health counseling and care services a national Tele mental health program will be launched with Nimhans being the nodal center and international institute of information technology Bangalore providing technology support". Mental health which is a rare issue to be taken up in a union budget the finance minister said the Wuhan virus outbreak has accentuated mental health problems across age groups.
Union Cabinet approves scheme for promotion of RuPay Debit Cards